Prospect Point Park Niagara Falls NY
Prospect Point Park is part of the Niagara Falls State Park and is the main location for viewing the American Falls in the USA.
The Niagara river drops 50 feet (15.2m) in elevation for 1/2 mile (804m) before reaching the brink of the American Falls.
There is no fee to enter the park yet there are fees for the Maid of the Mist, Observation Tower and parking. The fee for the observation tower is $1.25 but the fee is waived if you purchase tickets for the Maid of the Mist. We recommend taking the elevator down to the base of the tower for viewing the Falls if you do not have time to visit the Cave of the Winds on nearby Goat Island.
View of the rapids approaching the brink at Prospect Point Park.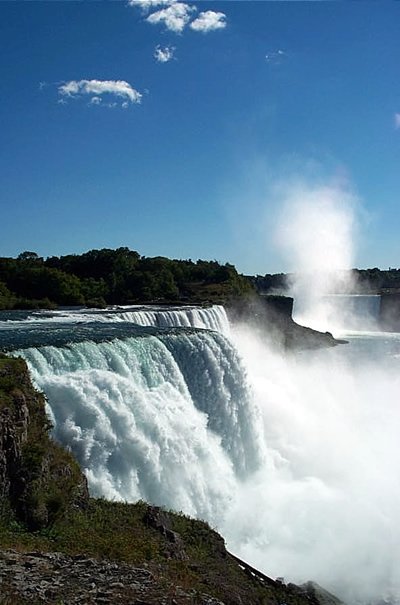 Stand within inches of the American Falls with the Canadian "Horseshoe" Falls as a backdrop !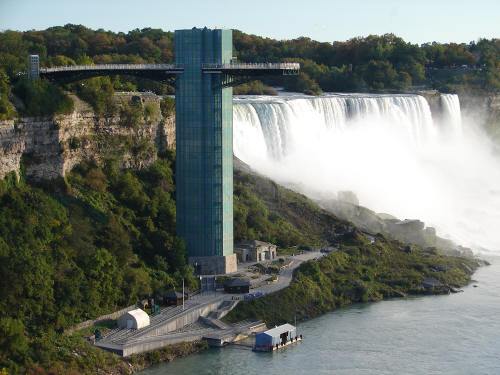 The New York State Observation Tower in Prospect Point Park offers visitors a unique perspective for viewing Niagara Falls.
The observation deck is open 8:30am to 10:30pm daily in season and availability is weather dependent. Please call 716-278-1794 for current operating times.
The Maid of the Mist boat ride is available from the base of the observation tower.
Automobile parking for Prospect Point Park is available at either the New York State owned parking lot or the One Niagara Visitor Center.
---