NIAGARA FALLS NEW YORK HOTELS 2021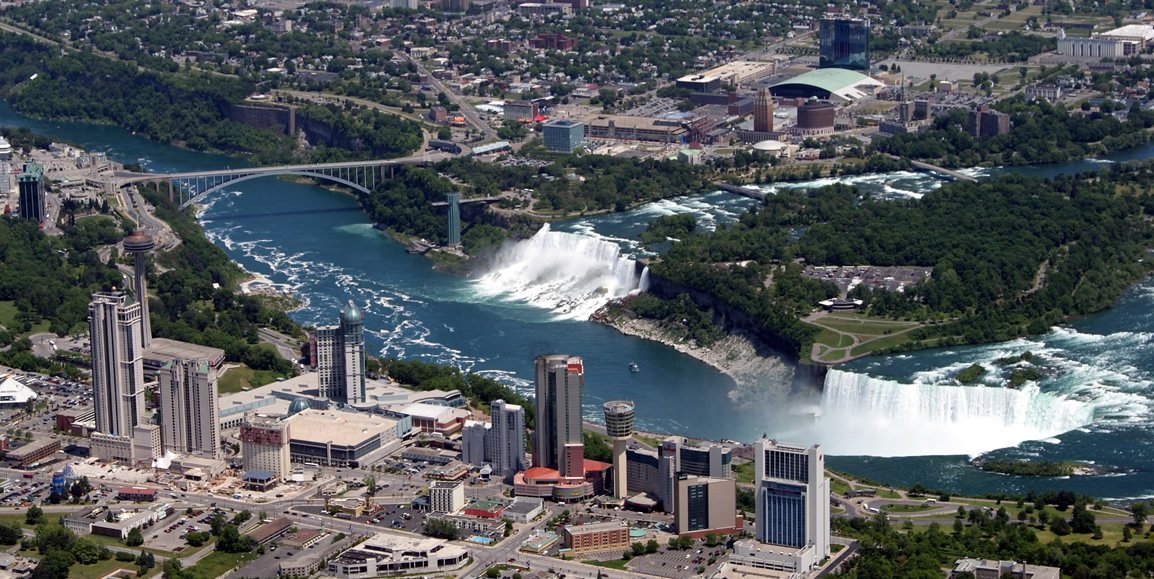 For 2021 the selection of hotels in Niagara Falls NY has greatly improved over the past few years. A brand new Hyatt Place opened along with a Marriott Courtyard and a complete renovation of the Wyndham Garden. If you want to stay as close to the Falls and State Park as possible we recommend the Comfort Inn the Pointe or if your budget allows try the Red Coach Inn. At the bottom of this page you will find an interactive map depicting the location of every hotel in relation to the Niagara Falls State Park.
---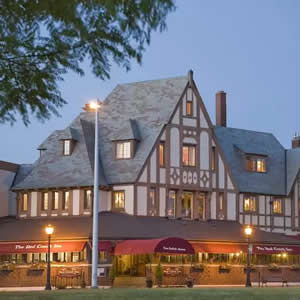 Red Coach Inn  2 Buffalo Avenue






$229.00 night +tax ~ prime season*
The Red Coach Inn is our favorite hotel in Niagara Falls NY.  The Niagara Falls State Park is across the street! A fantastic restaurant and extensive attention to detail make the Red Coach the best place to stay. Rooms typically sell out during July and August.


---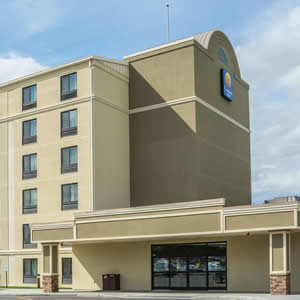 Comfort Inn "The Pointe" 1 Prospect Pointe



$235.00 night +tax ~ prime season*
The Comfort Inn has been steadily improving over the last few years under new ownership.  Their location is second to none as you can walk from their lobby to the brink of the American Falls in less than five minutes. Rooms sell out quickly for July and August.


---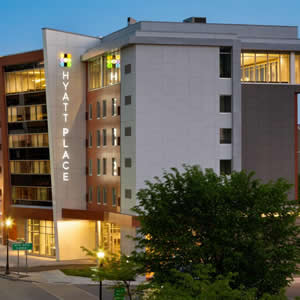 Hyatt Place Niagara Falls 310 Rainbow Blvd South






$296.00 night +tax ~ prime season*
Niagara Falls NY's newest hotel. Great location close to the park and a great exterior cocktail area during the summer. Their only drawback is most guests arriving by car will have to park in the city lot. Other than that we think the Hyatt is in the top three Niagara Falls NY Hotels.


---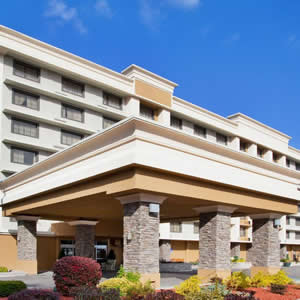 Holiday Inn  114 Buffalo Ave





$189.00 night +tax ~ prime season*
The Holiday Inn on Buffalo Avenue's best attribute is its close proximity to Niagara Falls State Park. Offering an in-house restaurant and cocktail lounge it's a very convenient place to stay.


---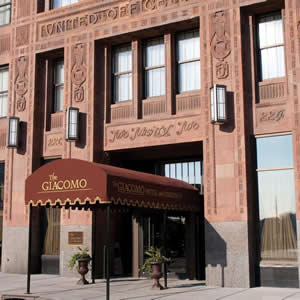 Giacomo 222 First Street





$212.00 night +tax ~ prime season*
Do you enjoy Art-deco? The Giacomo hotel was formerly the United Office Building built in 1929 and is the most unique building in Niagara Falls NY. The owners spent many years and millions of dollars restoring the hotel to it's original glory. Their only shortfall is the lack of a full service restaurant.     


---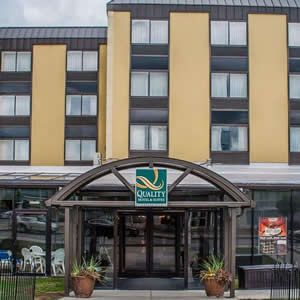 Quality Hotel and Suites  240 Rainbow Blvd






$186.00 night +tax ~ prime season*
Minimal parking availability during prime season is a big negative. Reviews are mixed . Convenient location and reasonable prices.


---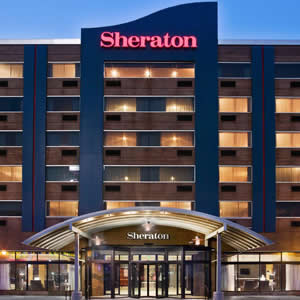 Sheraton at the Falls 341 Third St. Niagara Falls NY








$179.00 night +tax ~ prime season*
The Sheraton at the Falls has a long list of amenities to make your stay a pleasant one. Close to the casino and a relatively short walk to the Falls. We rate the Sheraton the best medium priced hotel.



---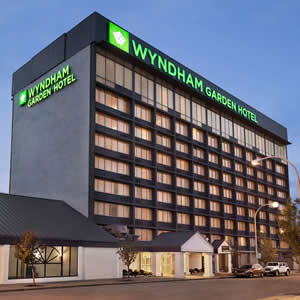 Wyndham Garden  443 Main Street







$255.00 night +tax ~ prime season*
Very convenient location near the Rainbow Bridge and the State Park. The entire hotel was renovated recently with excellent results. Recent reviews are positive!


---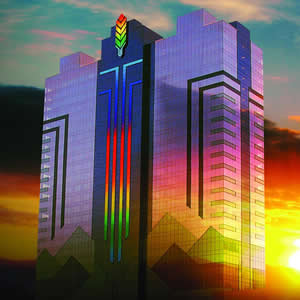 Seneca Niagara Casino Hotel 310 Fourth Street







$212.00 night +tax ~ prime season*
If you are into gambling in a smoke filled Casino then this is the place for you! The hotels rooms are well furnished and the service is great. Multiple dining options available. Dollar for dollar a great value.


---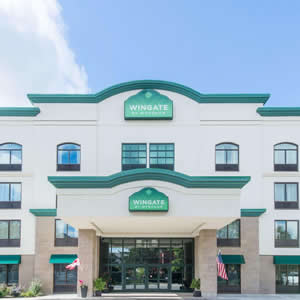 Wingate by Wyndham  333 Rainbow Blvd



$263.00 night +tax ~ prime season*
The Wingate on Rainbow Blvd. makes for a suitable location to stay during your visit to Niagara Falls.


---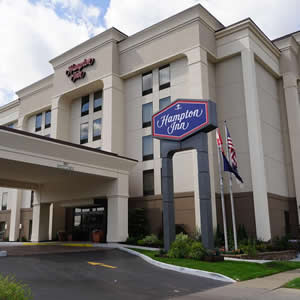 Hampton Inn Niagara Falls 501 Rainbow Blvd




$236.00 night +tax ~ prime season*
The Hampton Inn on Rainbow Blvd. is one of the best managed hotels in Niagara Falls NY. Management pays close attention to details and they receive very few negative comments. In our opinion this property is the best hotel value dollar for dollar. If you are not up for the 15 minute walk to the park you can always take the complimentary shuttle.


---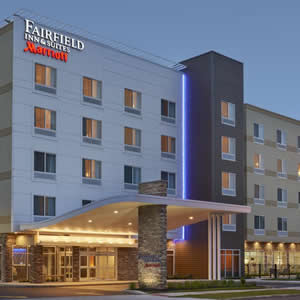 Fairfield Inn & Suites 643 Rainbow Blvd




$224.00 night +tax ~ prime season*
Many positive reviews complimenting on the hotels clean, comfortable rooms and their delicious breakfasts. Another positive note is that many guests stated they would stay here again. 



---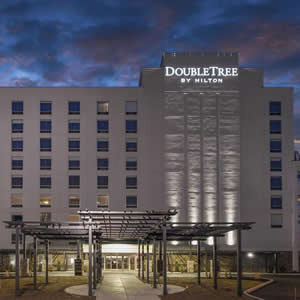 DoubleTree by Hilton  401 Buffalo Ave






$249.00 night +tax ~ prime season*
With such great reviews it's hard to go wrong with a stay at the DoubleTree.  While it's still a bit of a hike to the park it is in a great location where you can enjoy a leisurely walk along the Niagara River.  Riverview rooms with a balcony are the best.


---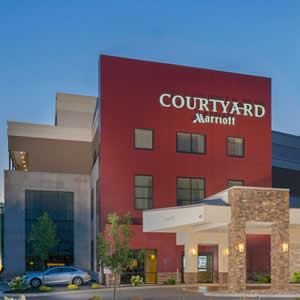 Courtyard by Marriott  900 Buffalo Avenue




$212.00 night +tax ~ prime season*
This Courtyard by Marriott maintains itself to the typical quality you have come to expect from Marriott. The reviews are great and the property is in great shape inside and out. The only drawback is you may want to take the shuttle to the park since it's 1 mile(1.6km) to the Falls. 



---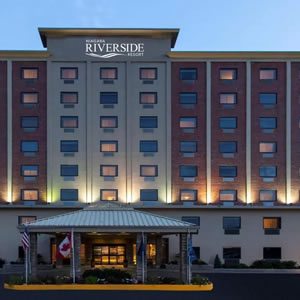 Best Western Niagara Riverside Resort 7001 Buffalo Avenue




$179.00 night +tax USD ~ prime season* 
This property now fly's the Best Western Premier Flag. It is just over 4 miles from the Falls  their rates tend to be more affordable. Enjoy scenic views of the Niagara River and the Grand Island Bridge. 


---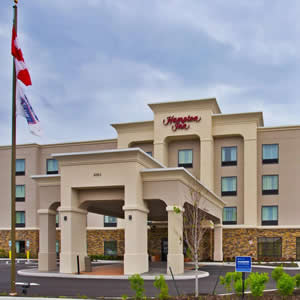 Hampton Inn Niagara Falls Blvd  6501 Niagara Falls Boulevard




$189.00 night +tax ~ prime season*
While this hotel is almost 4  miles from Niagara Falls State Park it is very well maintained and managed. Many people love its close proximity to the Factory Outlet Shopping Mall. 


---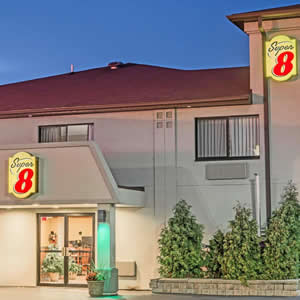 Super 8 Niagara Falls  7680 Niagara Falls Blvd.




$135.00 night +tax ~ prime season*
There are a slew of budget hotels on Niagara Falls Boulevard on the outskirts of downtown Niagara Falls and we think the Super 8 is the best value. If you are like most travelers who spend most of their time out and about the Super 8 is a great choice.


---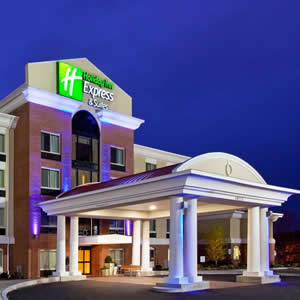 Holiday Inn Express  10111 Niagara Falls Blvd.




$189.00 night +tax ~ prime season*
If you are interested in saying close to the Niagara Falls International Airport the Holiday Inn Express is your best choice. This is one of the few hotels that does not charge for parking. Breakfast is included!


---
*RATES displayed are in US Funds for during prime season months of July & August 2021. They are for reference only.  Room price is for 2 adults 2 queen beds. Prices quoted do not include taxes, parking fees, resort fees or city tax. Prices displayed are for reference only. Actual price will vary.
---


Please visit our home page for the most up to date Niagara Falls tourism information.