View of the Canadian Falls from the Hilton Fallsview Hotel.
NIAGARA FALLS TOURISM UPDATE: THURSDAY JULY 22ND 2021 08:19AM EST –  THE INTERNATIONAL BORDER BETWEEN THE US AND CANADA IS CURRENTLY CLOSED TO NON-ESSENTIAL TRAFFIC.
THE BORDER WITH CANADA WILL REOPEN FOR US CITIZENS ON MONDAY AUGUST 9TH 2021. PROOF OF VACCINATION WILL BE REQUIRED. CHILDREN UNDER 12 YEARS ARE EXEMPT FROM VACCINATION. TESTING WILL BE REQUIRED AT THE BORDER. TRAVELLERS FROM OTHER COUNTRIES WILL BE PERMITTED ON AND AFTER AFTER TUESDAY SEPTEMBER 7TH 2021. A 14 DAY QUARANTINE WILL BE REQUIRED FOR NON-VACCINATED TRAVELLERS. *THE US HAS NOT ACCEPTED TERMS AS OF JULY 22nd 2021. OFFICIAL RELEASE – GET THE APP.
THIS INFORMATION IS UPDATED AS NECESSARY ON A DAILY BASIS. 
---
You can view an up to date list of the current status of all area attractions and opening dates here.
In Niagara Falls Canada Queen Victoria Park is open for viewing the Falls. All Niagara Falls Canada attractions operated by Niagara Parks are open or have announced opening dates. Restaurants are now offering indoor dining as of Friday July 16th 2021.
In Niagara Falls USA all area hotels, attractions and restaurants are now open!
The Nightly Illumination of the Falls will be displayed every evening for 2021. Fireworks have been postponed.
---
OFFICIAL NIAGARA FALLS BORDER CROSSING INFORMATION:
---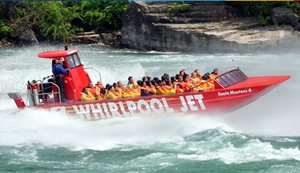 Niagara Whirlpool Jet Boat is now open at both their US & Canada locations. What is the most exciting adventure besides visiting the Falls? The Whirlpool Jetboat ride is the most exhilarating ride on the planet! Over 1.5 million people have experienced the thrills of riding through the Niagara Rapids on board one of their 1200hp turbo diesel jetboats. Reservations are required and there are departures from both the Canadian and USA sides of the Niagara River. This amazing ride is considered to be one of North America's most thrilling experiences. For more information and discounted rates you can start here.
---
Experience the mystery and art of illusion with Greg Frewin, International Grand Champion of Magic. This Las Vegas Style Magical Review features spectacular appearances by our rare and majestic tigers. Your imagination will be captivated and you will be amazed "Beyond Belief!" A family friendly show featuring large cats, and illusions which astounded International audiences at the Flamingo Hilton in Las Vegas for two years. Come enjoy a Las Vegas show in Niagara Falls! For more info visit the Greg Frewin Theatre. BOOK YOUR 2021 RESERVATION TODAY!
---
---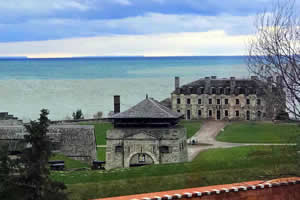 We've updated the Old Fort Niagara webpage with a beautiful 360 degree panosphere. Located in beautiful Youngstown NY only a short drive north of Niagara Falls. The view from our spectacular Fort Niagara Webcam overlooks the Old Fort Niagara and  Lake Ontario. Watch the Fort Live, Lake freighters transiting across Lake Ontario and the ever changing weather. If you have the time to spare while visiting our area we highly recommend a visit.
---
Planning a visit?
The value of the Canadian dollar is extremely low these days and trading at about .80 cents USD. A $200.00 per night hotel room in Canada will only cost $159.00 US. If you have ever wanted to visit Niagara Falls Canada now is the time to book that vacation!
Planning a trip to Niagara Falls has never been easier. First you need to figure out the best way to get to Niagara Falls. Our "How do I get to Niagara Falls" page is full of valuable information on arriving here by everything from planes to trains and automobiles. The Travel Tips page offers information on crossing the border, passport information to what type of weather you can expect during your visit. Of course you will want to view the Niagara Falls in all its splendor but we're sure you will want to try some of the associated attractions. Just visit our attractions page and pick and choose what you might like to try. There are discount passes for Niagara Falls attractions available for those who want to visit multiple attractions or if you have limited time just pay individually for each attraction as you go. The next step is to decide on where you would like to stay. Our Niagara Falls Hotels pages offer all the insight you need to choose a place that will suit your needs. If you can't find what you are looking for check out our sitemap or send an email to info@niagarafallslive.com. We'd be glad to help you plan your visit!
---
---
Did yo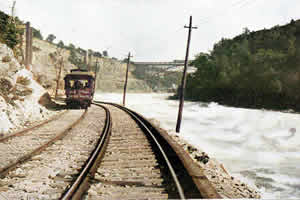 u know….There used to be a trolley service from Niagara Falls NY to Youngstown NY which followed the Niagara River right at the waters edge? It was named the "Great Gorge Route" and operated from 1895 until 1930. The owners of the line eventually closed for good due to the Great Depression and the newer and more modern modes of transportation of the bus and automobile. During the tourism season a flood light was mounted on a flat-bed car and used to illuminate the Giant Whirlpool at night. The image shown depicts the trolley heading north from the Niagara Falls. Portions of the old rail line are now part of the "Great Gorge Hiking Trail".
---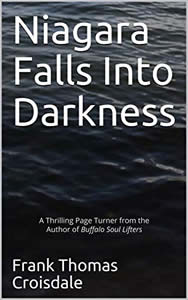 Interested in a good read? Author Frank Thomas Croisdale has just released "Niagara Falls into Darkness".
A madman serial killer is on the loose taking lives on both sides of the border at Niagara Falls. Newspaper Editor Mick O'Malley and Detective Sally Wendt are the only two with a chance of catching him before he kills again. Will they succeed or will Niagara fall into darkness forever?
"Dean Koontz, John Grisham, James Patterson – make way for the next great American crime thriller author, Frank Thomas Croisdale. Not only is Niagara Falls Into Darkness a page-turning masterpiece, it features one of the greatest protagonists ever created for the written page." Available from Amazon.
---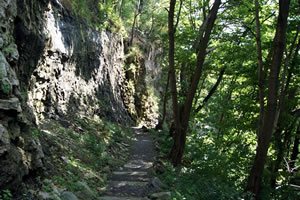 Many visitors to Niagara Falls are unaware that we possess some of the most beautiful hiking trails in North America. The area known as the Niagara Gorge begins at the Falls and extends almost 5.5 miles (9 km) to the north. The gorge is accessible at various points along the Niagara Parkway on both sides of the Niagara River. You can hike down to the rivers edge for some breathtaking views of the local flora and fauna. Visit our hiking page for details!
---
Congratulations to the winners of our annual Niagara Falls photo contest. We had hundreds of great entries from visitors from all over the world. A big thank you to all that participated !
---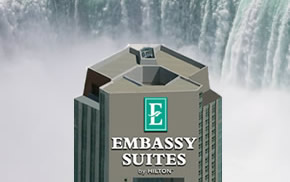 The best views of Niagara Falls are from the Embassy Suites Niagara Falls according to our unbiased research. If you are visiting Niagara Falls and want to enjoy a jaw dropping stay this is the place to stay. Built on the edge of the Niagara Escarpment this towering structure opened for business in 2003. Floor to ceiling windows and  a view that is second to none. Spend a night or two at this amazing Niagara Falls Hotel. Find more information on every Niagara Falls Hotel.
---
---
The image below depicts the catwalk and hurricane deck at "Cave of the Winds". It is erected every Spring after the ice melts and removed in the Fall.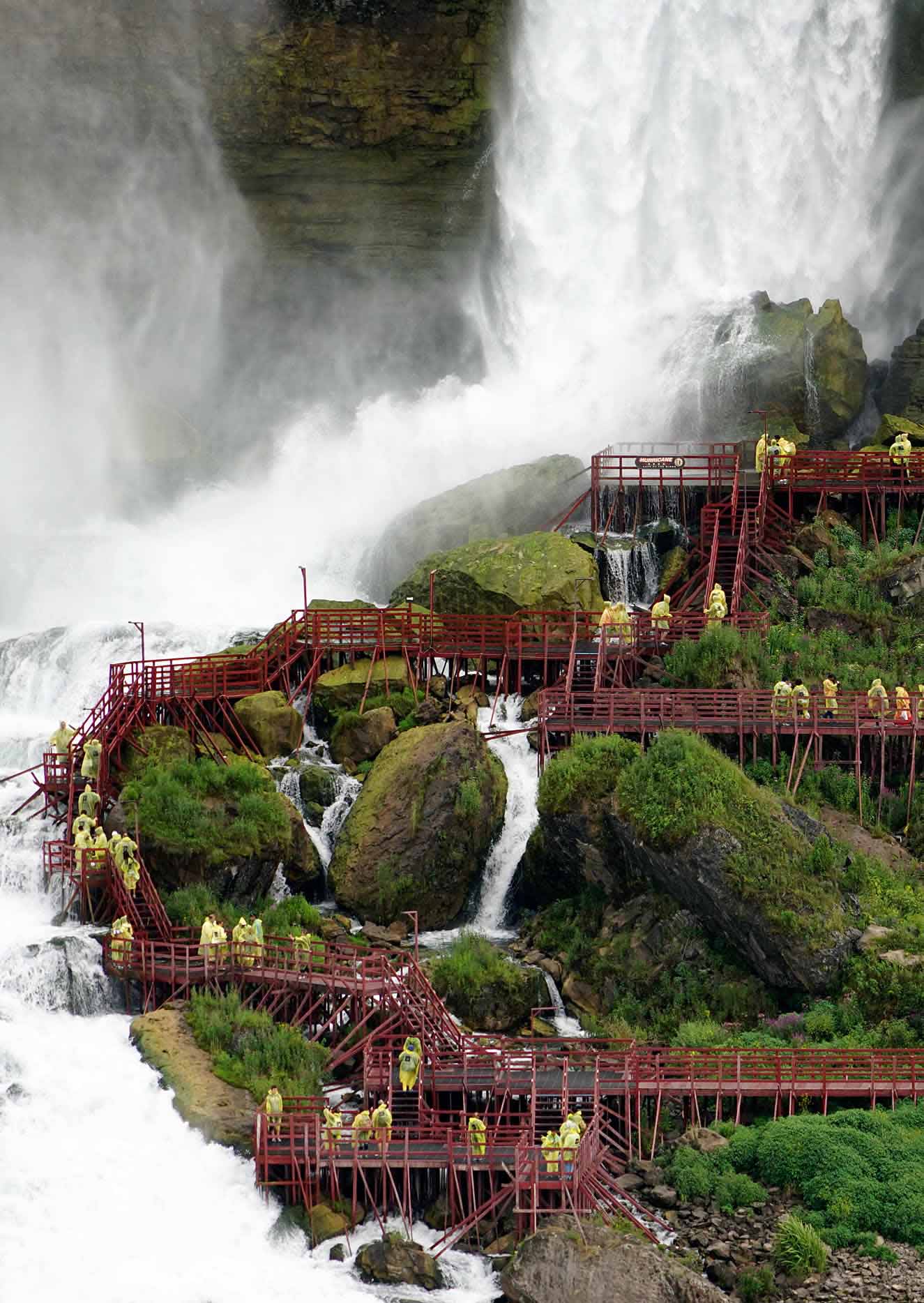 2021 is our 24th year of providing the most concise information in an easy to navigate format on Niagara Falls.