Niagara Falls Border Crossing Information
Niagara Falls Border crossing information, passport information and identification requirements for Niagara Falls border crossings.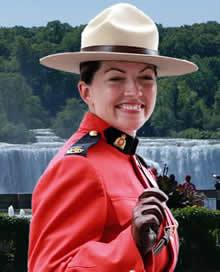 U.S. Citizens returning to the U.S. after visiting Niagara Falls Canada are required to provide a passport, or an enhanced drivers license (NY,MI,VT or WA) at the immigration checkpoint. Therefore…if you are a U.S. citizen living in the U.S. and cross the border to Canada and attempt to re-enter the U.S. you will need one of the above listed forms of identification. Effective June 1st 2009.
Children that are US citizens under the age of 16 travelling from the U.S. to Canada and returning to the U.S. by land or sea (car or boat) are not required to have passports. An original or certified copy of their birth certificate is required. If the children are not yours you must provide a signed hand written note by the parent indicating how long the child will be in the country you are visiting along with telephone numbers for the parents. You will be denied entry if you are lacking proper documentation. A printed copy of the parents license/passport can help too. Please visit the U.S. State department website for more information.
If you have ever been charged with a DUI (driving under the influence) in the U.S. you may be denied entry to Canada regardless of how long it has been. U.S. travelers are being denied at ports of entry ie: airports, ports of call, bridges and land based check points. There has been a significant number of travelers denied entry and it can be a "not good" situation. Click here for more information.
For U.S. citizens needing information on obtaining travel documents: www.canadianborderprotection.gov
For official US border crossing information visit this link. The previous link changes often and you may need to start your search here: www.cbp.gov
For official Canadian border crossing information visit the Canadian border services agency.
If you make purchases and travel between Niagara Falls Ontario and New York be sure to save your receipts. When crossing the international border you will be required to declare all purchases. Certain items may be taxable or you may qualify for tax refunds. Please visit the duty free stores located at the bridges between the U.S. and Canada for more information.
VISA INFORMATION
Persons wishing to travel to Canada who are not U.S. citizens (ie: foreigner) may be required to get a tourist visa from the Canadian consulate in the country from which they are arriving from. If you are in the USA on a visa and wish to visit Canada while in New York there is no Canadian consulate located in Niagara Falls. YOU CANNOT OBTAIN A TOURIST VISA AT ANY OF THE BORDER CROSSINGS. When contacting the Consul, inform them that you wish to obtain a "temporary resident visa". As of April 1st 2012 the fee per person is $75 for a single entry visa, $150 for a multiple entry visa or $400 for a family (multiple or single entry). For online information visit the Canadian Consul Website.
INTERNATIONAL BRIDGES
Although border security has increased significantly, crossing of either the Rainbow bridge or the Queenston/Lewiston Bridge are back to usual transit times. Expect one hour delays on holidays including Canada Day, Fourth of July and Labor day weekend.
There are three International bridges between the U.S. and Canada within six miles of the Falls.
500 yards (457m) from the American Falls is the "Rainbow Bridge" which offers a spectacular view of the Falls. There is no commercial traffic allowed. You can walk, bike or drive across.
1.8 miles (2.9 km) North is the "Whirlpool Bridge". Only NEXUS cardholders can use the Whirlpool bridge.
5.6 miles (9 km) North of the Falls is the "Lewiston-Queenston Bridge". This bridge is for all types of vehicles. Bicycles are allowed but not recommended.
Bridge status traveling into Canada click here
Bridge status traveling into the U.S. click here
General Bridge information click here
When crossing the international border be sure to bring a valid passport. You may be denied entry if you are lacking proper documentation.
PETS
For travelers visiting Niagara Falls with their pets. Dogs are welcome in the park areas as long as they are leashed and cleaned up after. If you plan on crossing the border with a pet you may be asked to provide a current vaccination certificate. Most hotels do not allow pets.