Where to park at Niagara Falls?
Most visitors to Niagara Falls arrive by car and need a place to park during their visit. We'll try and help you figure out where the best place "For Niagara Falls Parking" actually is.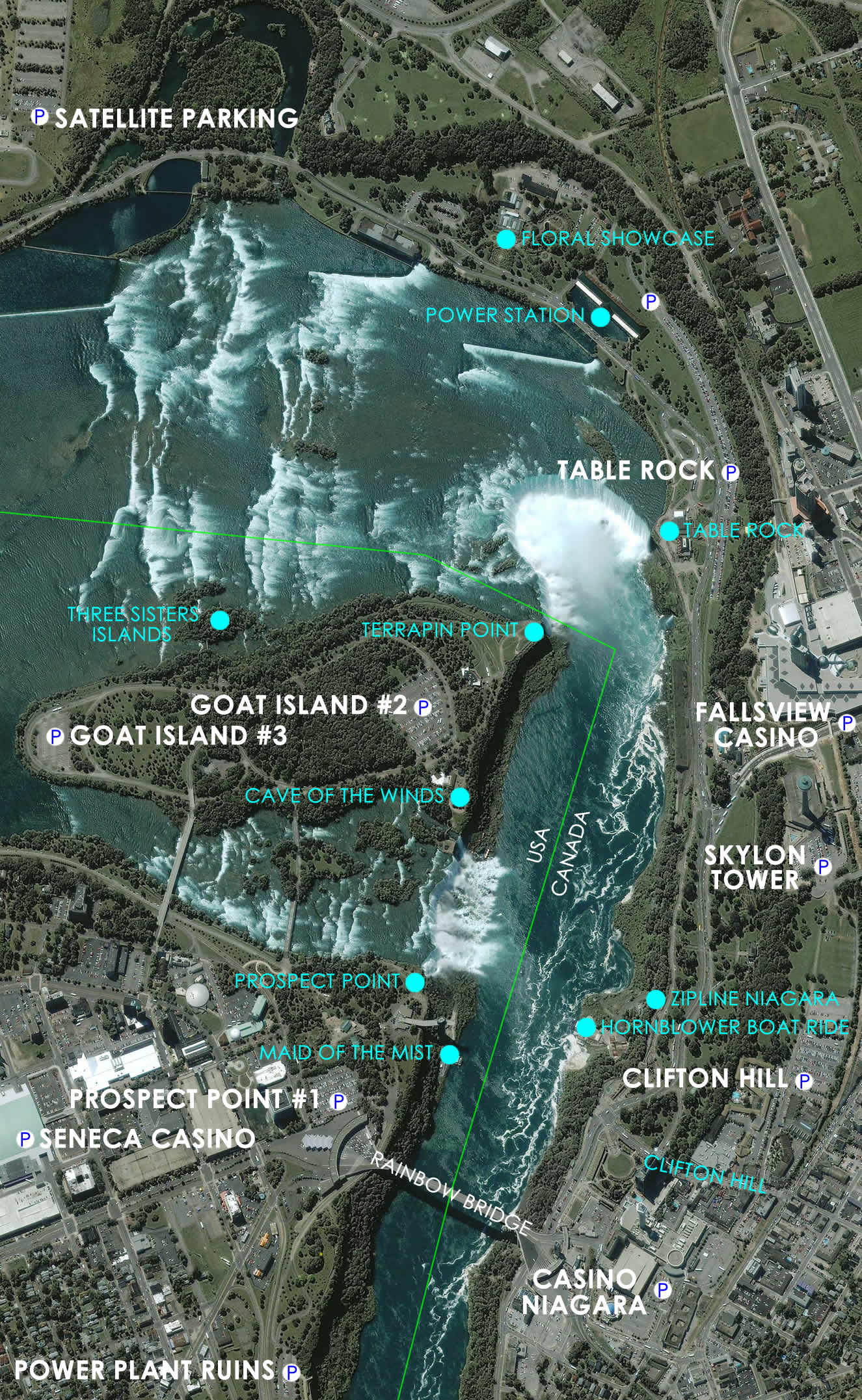 Niagara Falls Parking USA–
PAID PARKING
Paid parking offers convenience when visiting our area especially during the busy months of July and August. On the USA side of Niagara Falls you can find parking at one of the three lots managed by Niagara Falls State Park.
Parking Lot #1 is the closest parking to Prospect Point where you can board the Maid of the Mist boat ride and view the American Falls up close. It is very convenient and the price fluctuates according to the season. For mapping on your mobile device use:  Niagara Falls Visitor Center Parking Lot 1 Niagara Falls NY.
Parking Lot #2 is located on Goat Island and is very convenient if you want to visit the Cave of the Winds and Terrapin Point. For mapping on your mobile device use: Goat Island Parking Area Goat Island Rd Niagara Falls NY.
Parking Lot #3 is at the east end of Goat Island is fine if you are visiting Goat Island only and don't mind walking ten to fifteen minutes to view the Falls. Quite often there is no fee to park at lot #3. If you decide you want to park at lot #2 or #3 on Goat Island, signage will direct you to Lot #2 and there are a two options- Pay and park at #2 or during the off season there is a good chance the booth at lot 3 is not charging. At the entrance to Lot #2 you will see signage pointing to Lot #3 (keep left). For mapping on your mobile device use: Parking Lot 3, 50 Goat Island Rd, Niagara Falls, NY.
If you would like to pay a lower rate yet still be close to Prospect Point we recommend the One Niagara Welcome Center. This privately owned facility is adjacent to the State Park Lot#1 and offers ample parking. They have a great food court and gift shopping is available. For mapping on your mobile device use: 360 Rainbow Blvd, Niagara Falls, NY.
PARKING IS CURRENTLY $5.00 per vehicle at State Parking lots #1 & #2. The rate typically rises to $15.00 per vehicle June 1st.  
FREE PARKING – If you know where to look you can typically find free parking. The closest free parking is curbside on Buffalo Avenue or Old Main Street.  Downstream of the Rainbow Bridge there is free parking at the Power Plant Ruins site. This is a great place to park if you are bringing your bicycle. From the Power Ruins site to Three Sisters Islands is 1.5 miles. If you stop near the Cave of the Winds and Terrapin Point the route is two miles will take 10 minutes on a bicycle and 36 minutes to walk.
Please do not attempt to park in a private parking area. Unauthorized vehicles do get towed and that will ruin your visit.  
Niagara Falls Parking CANADA-
PAID PARKING
If you are interested in viewing Niagara Falls from Canada you will need to park near Queen Victoria Park. Niagara Parks of Ontario manages the park and manages the parks parking facility. The entry point for parking is behind the Niagara Parks Power Station. For mapping purposes use 7005 Niagara Pkwy, Niagara Falls, Canada. During the off season this lot offers the most convenient parking close to the brink of the Canadian Falls. However during the busy season the lot fills quickly and you may be directed to a satellite lot and be offered to take a shuttle to the Table Rock Visitor Centre. This can be time consuming and you may want to consider alternatives.
Other paid parking options include the Skylon Tower parking or the Clifton Hill parking facility. Both facilities offer secure parking and have their advantages and disadvantages. In order to get to Queen Victoria Park you do have to walk downhill to get there and the change of elevation is about 200 feet/60 meters. If you plan on visiting Clifton Hill the choice is simple. For navigation on your mobile device use: 4960 Clifton Hill Parking, Niagara Falls Canada. For directions to the Skylon Tower on your mobile device use: Skylon Parking Area A, 5200 Robinson St, Niagara Falls, Canada. The Skylon parking adjoins Robinson Street which offers a convenient path directly to the park.
For reference purposes it is 2.2km/1.3 miles from the Power Station to the Rainbow Bridge. Walking between the two points would take 26 minutes and 7 minutes on a bicycle.
PARKING IS CURRENTLY $30.97 per vehicle at the Niagara Parks Parking lot near the entrance to the Power Station. This fee covers parking at all Niagara Parks attraction in Niagara Falls.
FREE PARKING
Free parking near Niagara Falls is nearly impossible during July and August. You will find free curbside parking on Victoria Avenue and the Niagara Parkway. Property owners tend to be on the lookout for tourists who try to park on their property without permission. The towing business in Niagara Falls Canada is very profitable.
---
HOTEL PARKING
Just about every hotel in Niagara Falls Canada charges a fee for parking. Be sure to check before you book. The fees range from $10 to $60 per night and even more for valet service. While most of us hate to pay to park especially if you are from the burbs you have to remember that there is a limited amount of real estate and owners can and do charge a premium. Don't be offended, it's just a fact of life these days. Niagara Falls NY hotels usually charge less than $15.00 per night. 
---
PARKING AT THE CASINOS
There are two Casinos in Niagara Falls Canada- Fallsview Casino & Casino Niagara. Both offer parking for less than the Fallsview hotels typically charge. To receive the low rate you will have to enter the casino and sign up for their "players club" program and disclose personal information for their mailing lists. Parking here can be money saving but the convenience factor decreases in freezing weather.
The Seneca Niagara Casino in Niagara Falls New York offers secure parking typically for a very low fee.
---
RV PARKING AT NIAGARA FALLS
Please don't even consider driving your gigantic Class A RV to the Falls in Canada. Most parking facilities do not permit RV's. You may be able to sneak a smaller Sprinter type RV into some facilities. The Seneca Casino does offer a limited amount of overnight RV parking, we highly recommend you contact them beforehand.
---
NOTEWORTHY TIPS
If you are visiting Niagara Falls Canada and will only be taking the boat ride or the zipline, the Clifton Hill Parking or Skylon Parking are your best option.
The crime rate in Niagara Falls is very low yet car break-ins do occur. For this reason we highly recommend that you do not leave any valuables in plain site inside your vehicle. Always park in a well lit area when possible. Every year at least a few cars are broken into and unfortunately that will just ruin your entire visit.
Most paid parking areas do not allow overnight parking. Sleeping in a vehicle is not permitted and not recommended, try the local Wally World.
We have found the website www.parkopedia.com to be very useful.