One Niagara Welcome Center Niagara Falls
Visit the One Niagara Welcome Center in Niagara Falls USA
One Niagara Welcome Center is located  at 1 Niagara Street in Niagara Falls New York USA. Phone: 1-(866) 678-3974.
Re
servations are not required.
The One Niagara Welcome Center parking facility tends to fill to capacity before noon due to their low rates and location. 
The One Niagara Welcome Center is open to the public. Fees apply for activities.   View current schedule.
Open every season –
Visitors average 40-60 minutes here. 
Restrooms, gift shop and dining options are available.
Parking attendants on-site. Paid parking is available at onsite parking facility.   parking info
The One Niagara Welcome Center is the perfect place to get gifts and souvenirs to remember your trip to Niagara Falls.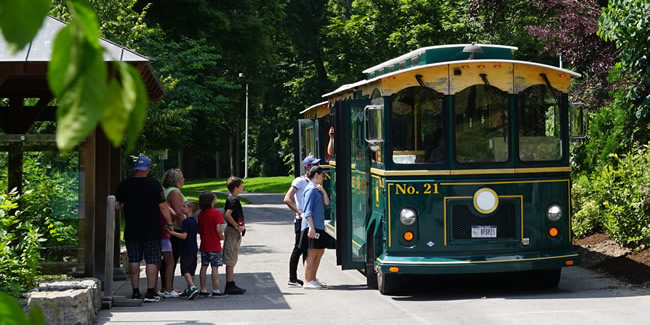 The Niagara Scenic Trolley stops near the One Niagara Visitor Center.
If you are visiting Niagara Falls on the US side of the Niagara River check out the One Niagara Welcome Center. They have a great food court and lots of souvenirs to remember your visit to the Cataracts of Niagara. They also have a huge parking lot where you can park during your visit, often for less than New York State Park itself. Enjoy many food choices at the food court. Conveniently located in the heart of Niagara Falls and within a five minute walk to the brink of Niagara Falls at Prospect Point. 
The One Niagara Welcome Center began as the world headquarters for the Occidental Corporation in 1980. Upon its completion it was regarded as the most energy efficient building in the world. It's unique building within a building or outer shell was considered way ahead of its time. Pneumatically controlled aluminum blinds offered infinite control of lighting within the facility. The building earned the nickname the "Flashcube" after it's similar shape to the polaroid flash cube used for photography at the time. For navigation to the One Niagara Welcome Center on your mobile device use: 1 Niagara Ave Niagara Falls USA.
This is a time lapse video of Niagara Falls during the transition from day to evening shot from the Rainbow Bridge. The bridge is less than a minute walk from the One Niagara Welcome Center. 
To find out what attractions are open in Niagara Falls USA & Canada visit
Now open in Niagara Falls
.
Please visit our homepage for the most up to date Niagara Falls tourism information.