Visit ArtPark in Lewiston NY USA.
ArtPark is located at 450 S 4th St in the Village of Lewiston, NY USA. Phone: 1 (716) 754-9000.
2023 price: ArtPark offers many activities from free to paid concerts and performances. ArtPark is a NY State Park and the park itself is open to the public free of charge. Please check current pricing for paid activities.
ArtPark is currently best known for their Tuesday night summer concert series. Top names in the entertainment industry perform at this spectacular indoor and outdoor venue. 
You can tour the grounds of ArtPark every day of the year. Please use care when walking in the Niagara Gorge especially near the water!
Open every season – Visitors average 30-60 minutes here. Most activities are during the summer months.  
Restrooms and limited picnic tables. Nearby Village of Lewiston has many dining options available. 
Parking is usually free of charge except during paid performances.
Reservations are not required with the exception of concerts and various performances.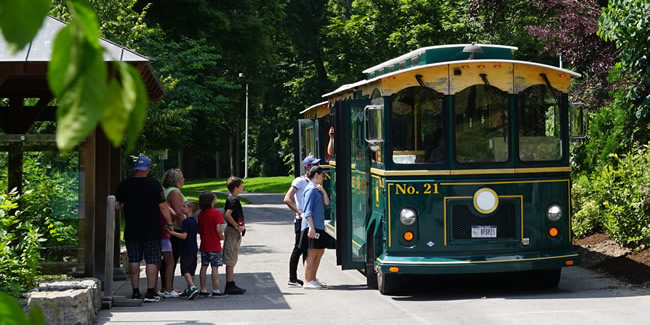 The Discover Niagara Shuttle stops at ArtPark during the tourism season months of June through early September.
If you are visiting Niagara Falls on the US side of the Niagara River check out ArtPark for great views of the lower river and the northern end of the Niagara gorge.
For navigation to ArtPark on your mobile device use: Artpark Lewiston NY. ArtPark is Western New York's premier venue for summertime entertainment. Art, Nature and Culture for all! If you are visiting the Niagara Falls / Western NY area you will definitely enjoy touring ArtPark. The main activities at ArtPark occur during the months of May through August. You can still walk the park every day of the year and enjoy the permanent art installations and walk in the gorge. Located in the beautiful village of historic Lewiston NY. The 2023 season at ArtPark will be a big hit with many top names in entertainment. Please visit ARTPARK.net
Aerial panorama of ArtPark in Lewiston NY.
Please visit our homepage for the most up to date Niagara Falls tourism information.