Niagara Falls Marriott Fallsview
6740 Fallsview Boulevard, Niagara Falls, Canada
The Marriott Niagara Falls Fallsview Hotel & Spa has the enviable distinction as being the closest hotel to Niagara Falls. As the areas premiere AAA Four Diamond, five-star luxury hotel, the Marriott Niagara Falls Hotel overlooks the majestic waterfalls and is located just minutes away from a variety of exciting attractions and casinos, as well as the Scotiabank Convention Centre.




Your Premiere Niagara Falls Canada Hotel
Residents in any one of our luxurious 432 Fallsview guest rooms will have the pleasure of an exceptional view overlooking one of nature's wonders. Wake up to the site of the falls, and drift off to sleep mesmerized by its beauty. The hotel has a wide-range of amenities, including a tour desk for Magnificent Tours, wireless Internet access, indoor pool and outdoor sundeck. Our fitness centre offers a variety of equipment to suit any routine, and our award-winning Serenity Spa by the Falls boasts two whirlpools, a sauna and a steam room. If you're in the mood for something delicious, Morton's Grille Fallsview Restaurant has an array of tasty dishes to tempt any palette. Our award-winning menu features a selection that has grown as highly-acclaimed as the falls themselves!
Best Spa of All Niagara Falls Canada Hotels
Take time to relax, refresh and revive in the full-service Serenity Spa by the Falls, which offers indulgent products and treatments. Immerse yourself in rejuvenating spa services and experience ultimate relaxation. Couples will savour the Cascade Signature Treatment, which includes Euro Facials, Relaxation Massages and Deluxe Spa Pedicures, and guests will feel refreshed and renewed as they lounge by the fireplace or relax in the Hydrotherapy Tub, which is also perfect for couples. Rated as the top spa in Niagara Falls by Spas of America, and among the top 100 in North America.
Superior Luxury Restaurant overlooking Niagara Falls
Visitors experience gourmet cuisine and a breathtaking view of the falls at Morton's Grille Niagara Falls; a luxurious and unique combination. The only Morton's Grille in Canada, the restaurant's inspired menu is casual yet refined. Guests will enjoy fresh seafood, succulent steaks, burgers, salads and more. To complement the experience, the bar at Morton's Grille features a unique collection of hand-crafted cocktails and an impressive selection of wines. To further enhance the evening, dinner at Morton's features a stunning view of the illuminated falls which serve as a backdrop and result in the perfect ambiance. The hotel also has more than 10,000-square feet of banquet/meeting space with natural lighting and a full view of Niagara Falls. This is something not all Niagara Falls hotels can provide, and is the ideal spot for a special event or function, sure to create an unforgettable memory for any occasion.
Starbucks is conveniently located in the hotel lobby, while the Lobby Lounge features three flat-screen televisions and a spectacular view of Niagara Falls.
At the Marriott Niagara Falls Fallsview Hotel and Spa, our guests can enjoy luxurious accommodations, fine dining, a state-of-the-art spa and so much more – all enjoyed on the brink of the thundering roar of the world-famous Niagara Falls.
Parking is available for $45.00 per day CAD.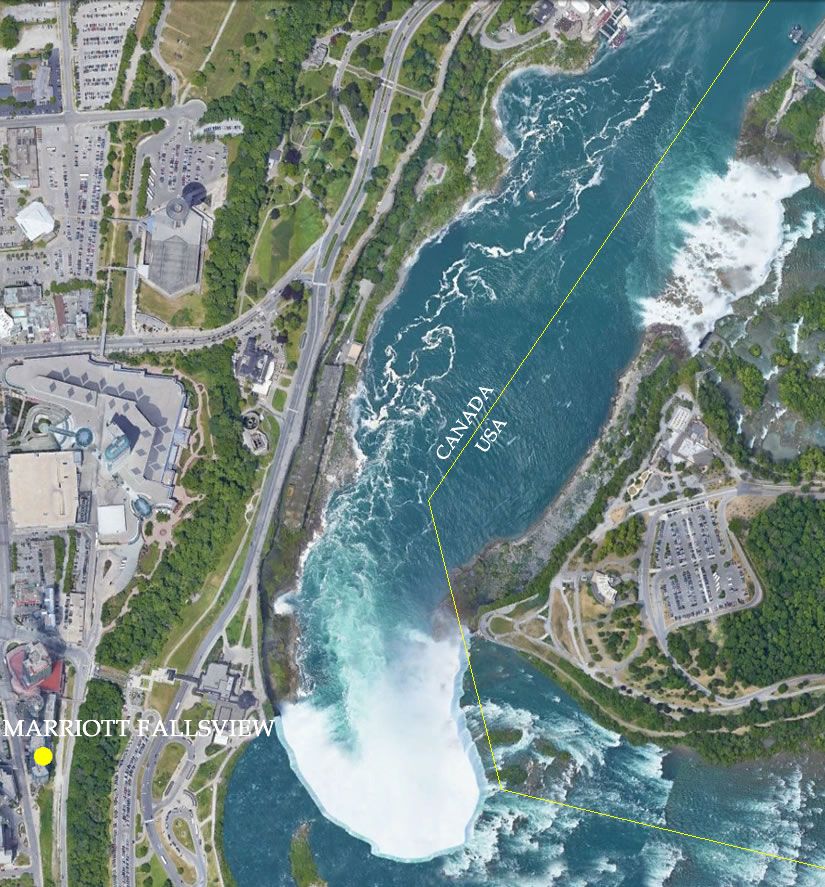 ---