2 miles/3 kilometers from the falls. Take an elevator to the bottom of the Niagara Gorge and enjoy a walk along the boardwalk adjacent to the mighty rapids of the Niagara River. Open April through October.  Part of the Niagara Parks "Adventure Pass"

Lower Niagara River Rapids
To find out what attractions are open in Niagara Falls USA or Canada visit Now open in Niagara Falls.
Take the elevator 70 meters (230 feet) down into the gorge, then walk through the 73 meter tunnel. The Boardwalk beside the rapids is 305 meters (1,000 feet) and stairs lead to two observation areas at the edge of the River. The water travels at different speeds along the length of the Niagara River.  South of the Falls where the river is wide and slow, the maximum speed is about 40 km/h.  Near the brink of the Falls, a speed of 109 km/h has been recorded.  As the water travels through the Whirlpool Rapids at White Water Walk, it is traveling at about 48 km/hr or 30 mph, creating the Whirlpool Rapids – "Class 6 white-water rapids".
Viewing area & Walkway at the "Great Gorge Adventure".
Located 1/4 mile (402m) North of the Whirlpool Bridge on River Road
Attraction Information:
2023 admission prices are shown in Canadian dollars and do not include taxes.
$17.50 Adults (13+ years), $11.50 Children (3 to 12 years). Children 2 and under are free.
Hours of operation are typically from 9:00 am to 8:00 pm. Last tickets are sold one half-hour before closing.
For more info call the White Water Walk direct: 1-877-642-7275
This video was taken from the US side of the Niagara River and shows the White Water Walk on the opposite side of the river.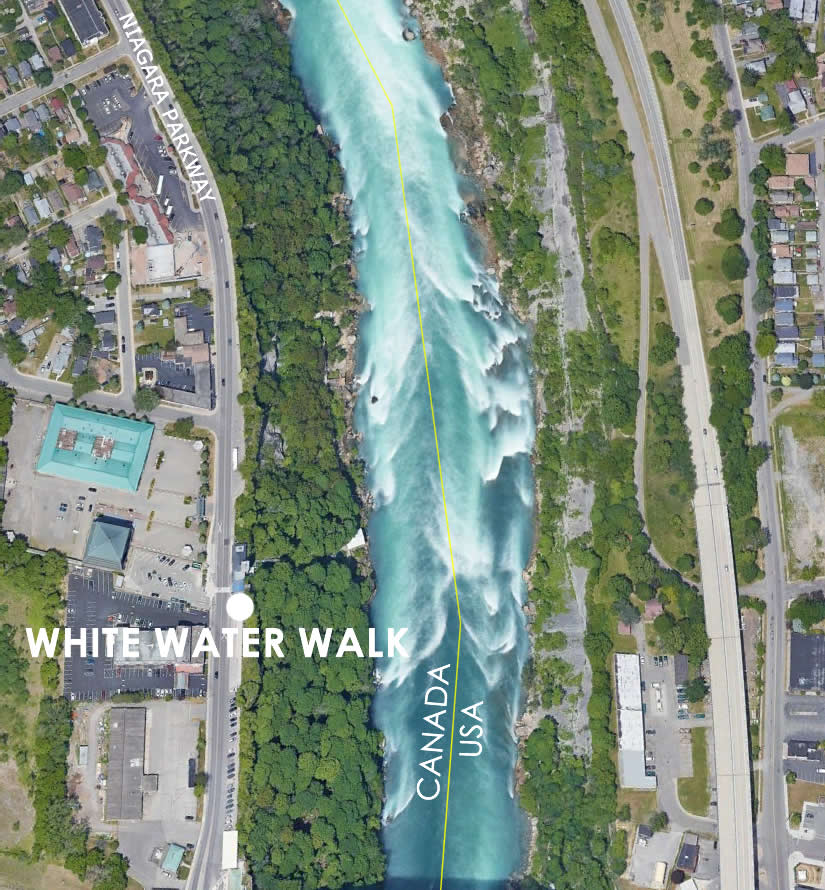 ---


Please visit our home page for the most up to date Niagara Falls tourism information.