Visit Aquarium of Niagara in Niagara Falls New York USA
Aquarium of Niagara is located at 701 Falls Street Niagara Falls NY USA  Tel: 1-(716) 998-2734
Paid parking is $5 for automobiles and $20 for busses/RV/campers – tax not included. Niagara Falls parking information.
Open 7 days a week 10:00am – 5:00pm year round. Hours may vary. View current hours.
2023 admission: Adults $19.95, Seniors $17.95, Children 3-12 $14.95, Infants 2 and under are free.
Visitors average 60-120 minutes here.
Advance ticket sales are available. 
Restrooms available. Food services are available on nearby Third Street.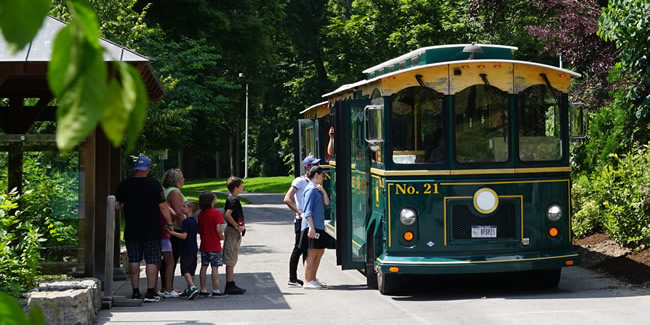 The Niagara Scenic Trolley stops at the Niagara Falls Aquarium!
On June 12, 1965, the Aquarium of Niagara opened to the public. Founded by a group of chemists and scientists, the goal was to create artificial seawater for aquariums. This seawater formula, Instant Ocean, is now used by most inland aquariums around the world.
During the late 1960s, the Aquarium acquired its first dolphin, Buster, an Amazon river dolphin. Soon after Buster had new roommates of bottlenose dolphins. 
The dolphins were the biggest attraction at the Aquarium for many years. In 1995 the dolphins were relocated and sea lions moved permanently into the main pool. In the 1978 our Humboldt penguin colony was established. The penguins' first successful hatch was Josephine in 1984. In the following years our penguins were a prolific breeding colony; in the 90's the Aquarium even welcomed six new additions in one year! Our penguins are very important to us and Western New York, our new Penguin Coast exhibit was opened in March 2018. The penguins don't mind our cold western New York winters. The Niagara Aquarium is a great place to bring your children for an introduction to the magnificent life of our worlds oceans.
For the most up to date information please visit the Niagara Falls Aquarium official website.
Please visit our homepage for the most up to date Niagara Falls tourism information.