Visit the amazingly beautiful Butterfly Exhibit in Niagara Falls Canada.
Niagara Parks Butterfly Conservatory is located at 2565 Niagara Parkway in Niagara Falls, Canada.
Tel: 1-877-642-7275
2023 admission: Adults $17.50 CDN, Children 6-12 $11.50 CDN, 5 & under free. Does not include 13% HST.
If you arrive by car there is a $5.00 parking fee which is good for both the  Butterfly Conservatory and the adjacent Botanical Gardens.
For more information about parking check here.
The Butterfly Conservatory is a great way to spend a relaxing hour learning about the life of a butterfly. 
You can visit the Butterfly Conservatory almost every day of the year.  
view current hours
Open every season – Visitors average 50-90 minutes here. Most active from May through September.  
Public restrooms are available. The Butterfly Cafe and Gift Shop are always open during the summer months. 
Typical hours during May through September are 8:00am to 8:00pm. October through April 8:00am to 5:00pm.
Reservations are not required and advance purchase is not necessary.  Official info: Niagara Parks.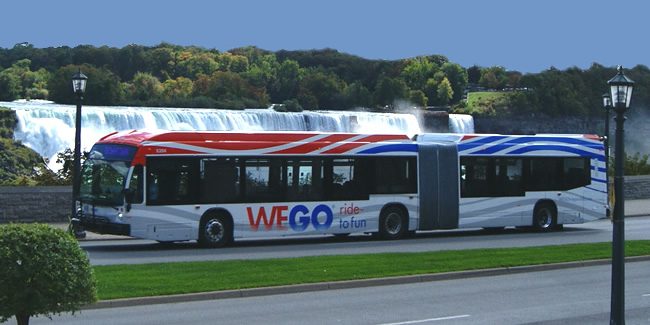 The WeGo transportation service stops at the Butterfly Exhibit & Botanical Gardens year round. You can verify service here. Service is always available from June through September.
If you are visiting Niagara Falls on the Canadian side be sure to check out the Butterfly Conservatory. Close by attractions include the adjacent Botanical Gardens, Floral Clock and the Whirlpool Aero Car. Nearby views of the lower Niagara River and the Niagara Gorge are available.
For navigation to Niagara Parks Butterfly Conservatory on your mobile device use: 2565 Niagara Pkwy, Niagara Falls, Canada.
The Butterfly Conservatory is located 4 miles/6.4 kilometers north of Niagara Falls on the Niagara Parkway which follows the path of the Niagara River to Niagara Falls Canada. Niagara Parks Butterfly Conservatory features over 2000 exotic butterflies of the world in a tropical rain forest setting. Identify the various species as you make your way along the 180 meter (600 ft.) pathway. There are over 45 different species of butterflies moving through a lush, climate controlled environment allowing visitors to see the new arrivals and get a first hand look into the complex life-cycle of a butterfly. A visit is sure to be an uplifting experience. Located just south of the Floral Clock and next to the Niagara Parks Botanical Gardens.
Aerial panorama of the Niagara Whirlpool near the Butterfly Conservatory.
Please visit our homepage for the most up to date Niagara Falls tourism information.