Niagara Parks Power Station
Visit the Niagara Parks Power Station in Niagara Falls Canada.
Niagara Parks Power Station is located at 7005 Niagara Pkwy, Niagara Falls, Canada.   Phone: 1-(877) 642-7275 
2022 ticket price self guided: Adult: $20.00 Child: $13.00. >5 free
2022 ticket price with guided tour: Adult $37.00 Child $24.00 >5 free
E

vening CGI light tour: Adults $30.00 Child $19.50. All prices are in Canadian funds and taxes are not included.
Open seven days a week from 10:00am-5:00pm during the tourism season. Other options during the remainder of the year.   View hours
Visitors average 40-50 minutes here. 
Restrooms are available.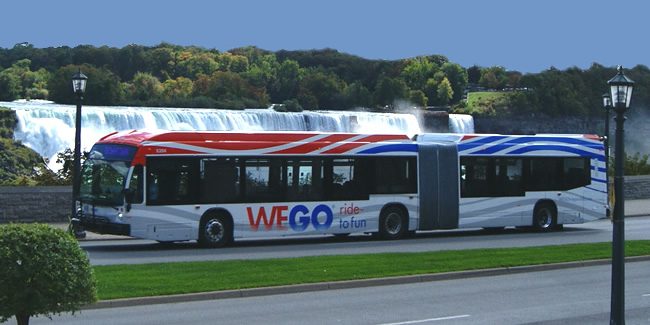 The WeGo Shuttle stops near the Niagara Parks Power Station.
The Niagara Parks Power Station offers visitors a glimpse of the early days of power generation at Niagara Falls. Along with guided and non-guided tours they are offering a night time tour complete with an amazing cgi display. For over 100 years, the "Canadian Niagara Power Company Generating Station" harnessed the energy of Niagara Falls and turned it into electricity.
Years after the plant closed this hydroelectric plant is now an excellent educational experience. It highlights remarkable history of this engineering wonder. This experience offers an opportunity to be part of a thrilling revival, and a chance to discover the incredible history and heritage of this celebrated building. Experience the history of the visionaries behind it as well as the workers that kept it running.
The Niagara Parks Power Station is a 1 kilometer-12 minute walk from the Table Rock Visitor Centre. For more info visit Niagara Parks.
This video showcases Niagara Parks latest attraction the "Niagara Parks Power Station". Take a step back to 1905 when generating electricity at Niagara Falls was reaching new limits. 
Please visit our homepage for the most up to date Niagara Falls tourism information.