Visit the Whirlpool State Park in Niagara Falls NY USA
Located 3 miles (5km) north of Niagara Falls on the Niagara Scenic Parkway.
Free automobile parking is available. Tel: (716) 278-1974
Open 7 days a week sunrise to sunset every day of the year.
2023 admission: Adults, Seniors & Children are free.
Advance ticket sales are not required. 
Restrooms and picnic tables available.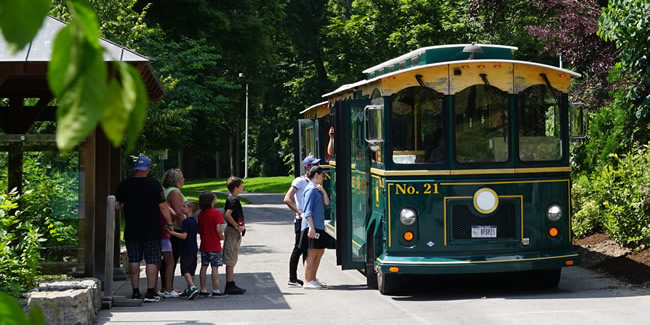 Discover Niagara Scenic Shuttle stops at the Whirlpool State Park.
Whirlpool Park is where you can enjoy views of the Niagara River, Giant Whirlpool and Niagara River Rapids. The parks location on the river is where the northerly flow makes an abrupt ninety degree right turn. The result of this change in direction is the circular swirling action of the river creating the Niagara Whirlpool. While most visitors to the park only walk to the viewing area along the top of the gorge the real treat is to take an hour or two to hike down to the river and explore the natural beauty of the Niagara Gorge and River.
Whirlpool Park is part of the Niagara Gorge Trail – The Niagara Gorge Trail has the best hiking, walking and cycling trails the area has to offer. Most all of the Niagara Gorge Trail has been extensively refurbished over the past few years and it's simply gorgeous. The multi-use trails follow the Niagara Gorge from the Falls all the way north to the Devil's Hole Overlook. Access the Gorge Rim Trail, the Scenic Overlook Trail and the Great Gorge Railway Trail from the Trailhead Building near the Power Plant Ruins Site.
This video was taken at the southern most part of the "Whirlpool Rapids Trail". It displays the Whirlpool Bridge, Niagara River Rapids and the White Water Walk in Canada on the opposite side of the Niagara River. 
Some of the most extreme rapids in the world precede the whirlpool. To access the rapids and whirlpool take the trail north of the parking area along the gorge until you reach the stairs. When you reach the river turn left. The hike from the parking area to the whirlpool takes 30 minutes and 40 minutes to get back up! Add another hour if you hike all the way to the south end. 
This is a superb hike where the rapids almost rival the Falls in beauty and excitement. Be sure to bring appropriate foot wear and always be extremely careful when hiking in the Niagara Gorge. For more information on hiking trails in the area please visit this link.
Aerial panoramic image of the Niagara Whirlpool located on the Lower Niagara River.
Please visit our homepage for the most up to date Niagara Falls tourism information.