Visit the Schoelkopf Power Plant Ruins Site in Niagara Falls USA
Located north of the Rainbow Bridge on Discovery Way.
Tel: (716) 278-1974
Open 7 days a week – 10:00am-5:00pm – Seasonally May-November
2023 admission: Adults, Seniors & Children are free.
Visitors average 30-60 minutes at this location.
Advance ticket sales are not required. 
Niagara Discovery Pass is not required.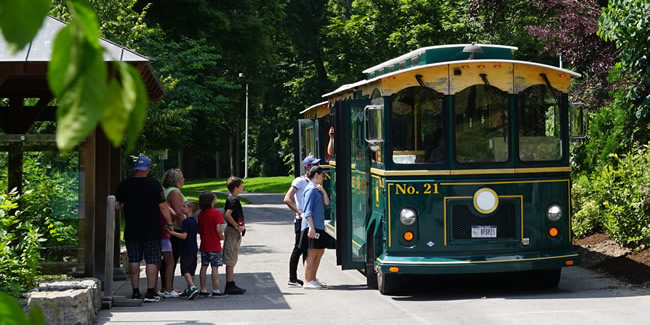 The Niagara Scenic Trolley stops at the Power Plant Ruins Site!
The "Schoellkopf Power Plant Ruins Site" at this location offers a free elevator ride down into the Niagara Gorge. You will be able to view the Niagara Gorge, Niagara River, Rainbow Bridge and the remains of what was once the most powerful hydroelectric plant in the world. The plant collapsed into the Niagara Gorge on June 7th 1956. The total destruction of the plant was the impetus to build the Robert Moses Power Project five miles away.
The property also houses the Maid of the Mist boats during the off-season.
If you have a half hour or more to spare take the time to enjoy this free ride into the Niagara Gorge and enjoy the views!
The elevator to the river is open May through October from 10:00 AM – 5:00 PM daily and this is a self guided tour. 
To find out what attractions are open in Niagara Falls USA or Canada visit Now open in Niagara Falls.
Located just a short two minute walk north of the Rainbow Bridge in Niagara Falls NY.
Please visit our homepage for the most up to date Niagara Falls tourism information.