Hornblower Niagara Cruises operates the boat ride on the Canadian side of the Niagara River at Niagara Falls. Reservations are not necessary and tickets can be purchased at any Niagara Parks attraction ticket window.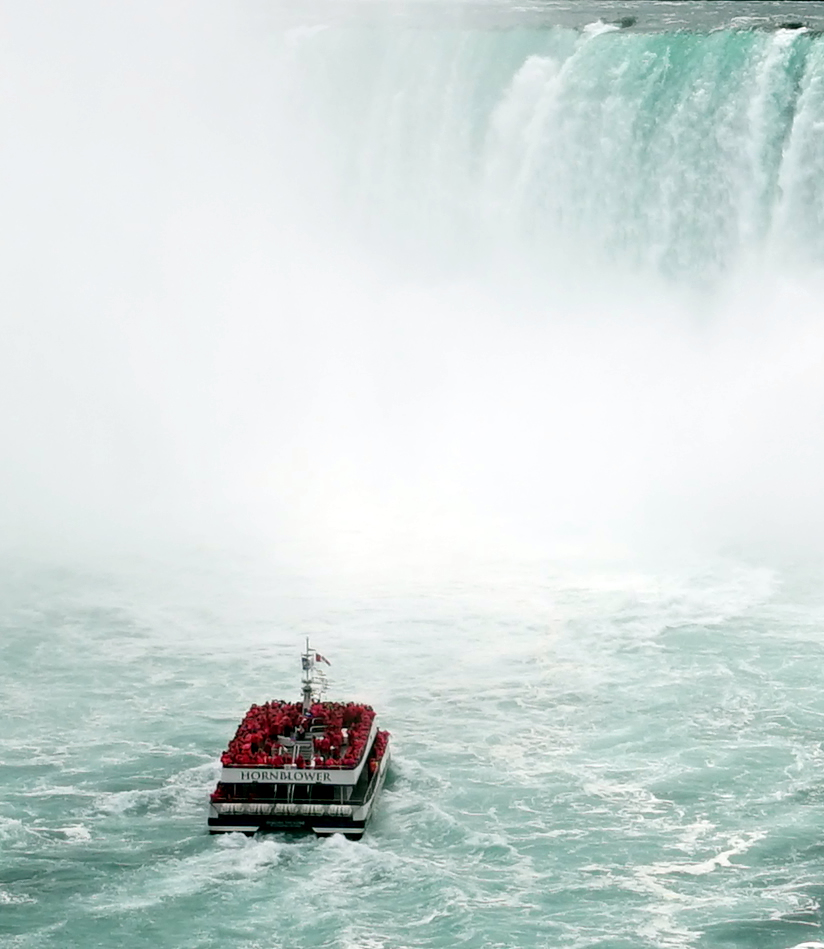 The 20-minute Voyage to the Falls boat tour that gets you as close as possible to the magnificent Niagara Falls. Journey past the American Falls, Bridal Veil Falls and into the heart of the Canadian Horseshoe Falls aboard Hornblower Niagara Cruises. This legendary boat tour takes place aboard a state-of-the-art Hornblower catamaran. Hornblower Niagara Cruises is the official supplier to Niagara Parks, providing Canada's only Niagara Falls boat tour experience.
2021 pricing is currently unavailable. We are displaying 2020 rates for informational purposes. Updated information for the 2021 season will be posted as soon as it becomes available.
2020 Pricing: Adults $34.47 per person– tax included, Canadian dollars.
Children ages 5-12 $23.16 each child  – tax included, Canadian dollars.
2021 Voyage to the Falls Boat Tour Schedule:
2021 Boat ride below the Falls schedule has not been released as of January 5th 2021. We will post the information here as soon as it is available.
Hornblower Niagara Cruises 5920 Niagara Parkway Niagara Falls, Ontario, Canada
Frequently Asked Questions
Q. Will I get soaking wet?
A. Every guest is issued a disposable plastic poncho to wear during the tour which will keep you reasonably dry. When the boat gets close to the Canadian Falls is where you will encounter the majority of mist. If you wish to stay dry simply move to another location on the boat where there is less mist.
---
Q. How long does the tour last?
A. The average tour lasts 15-20 minutes.
---
Q. What should I wear or bring with me?
A. Summer is for shorts and t-shirts. A pair of beach shoes or sneakers work fine but don't wear anything you wouldn't want to get damp. For Spring and Fall weather you need to dress appropriately for the local weather and just expect to get slightly damp. Usually you will have the ability to get great photos right up until you get close to the base of the Canadian Falls. Remember that even a slight mist on your camera lens will ruin any photo!
---
Q. Where do I purchase tickets and board the boat ride?
A. Tickets are available at the ticket window near the entrance. The address is 5920 Niagara Pkwy, Niagara Falls, ON. The entrance is in Queen Victoria Park less than a minute walk from the base of Clifton Hill.
---
Q. Where can I park my vehicle?
A. Hornblower Niagara requires you to park in one of the Niagara Parks paid parking lots and typically you will ride one of their shuttle buses to Queen Victoria Park. In every month but July and August you can typically find limited but free parking on the Niagara Parkway.
---
Q. I'm afraid of the water, is this ride safe?
A. Absolutely. There is no risk involved and our captains are the best!
---