Visit the Hornblower Niagara City Cruises in Niagara Falls ON Canada
The Hornblower Niagara City Cruises is located at 5920 Niagara Parkway in Niagara Falls Ontario Canada.  Phone: 1-(855) 264-2427.
2023 Boat Ride Ticket price: Adult $32.75 CDN, Child 3-12  $22.75  CDN – taxes included. < 3 no charge.
Hours are from 9:00am to 5:00pm during spring and fall with extended hours during the summer. View current hours

.   Now o

pen seven days a week as of April 1st 2023.  
Open seven days a week during the months of May through October.
Visitors average 40-60 minutes here. 
Restrooms and gift shop are available.
Parking is available at the Niagara Parks parking area. There is no automobile parking available at the entrance.   parking info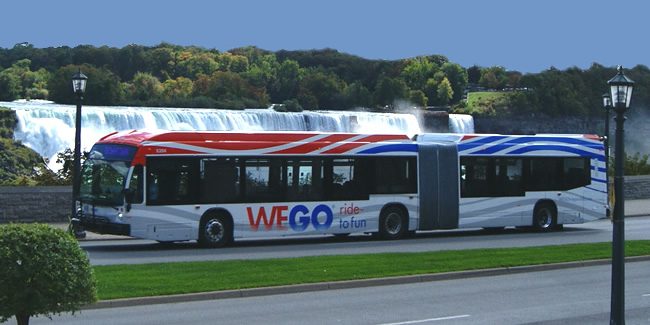 The WEGO shuttle stops at the boat ride in Queen Victoria Park.
The 20-minute Voyage to the Falls boat tour that gets you as close as possible to the magnificent Niagara Falls. Journey past the American Falls, Bridal Veil Falls and into the heart of the Canadian Horseshoe Falls aboard Niagara City Cruises. This legendary boat tour takes place aboard a state-of-the-art catamaran. Hornblower Niagara City Cruises is the official supplier to Niagara Parks, providing Canada's only Niagara Falls boat tour experience.
Hornblower Niagara City Cruises is currently open seven days a week as of April 1st 2023.
Reservations are not necessary and tickets can be purchased at the attraction ticket window. During a typical season the boat rides below Niagara Falls opens in late April or early May and runs until mid to late October.
All guests are issued a disposable plastic poncho to wear during the tour which will keep you reasonably dry. When the boat gets close to the Canadian Falls is where you will encounter the majority of mist. If you wish to stay dry simply move to another location on the boat where there is less mist. The tour lasts 15-20 minutes. For clothing, summer is for shorts and t-shirts. A pair of beach shoes or sneakers work fine but don't wear anything you wouldn't want to get damp. For spring and fall weather you need to dress appropriately for the local weather and just expect to get slightly damp. Usually you will have the ability to get great photos right up until you get close to the base of the Canadian Falls. Remember that even a slight mist on your camera lens will ruin any photo!
The entrance is in Queen Victoria Park less than a minute walk from the base of Clifton Hill. Parking is available at one of three very large parking lots near Queen Victoria Park. The closest parking lot which does require taking stairs to the park is on Clifton Hill and aptly named Clifton Hill Parking. For navigation use:  4960 Clifton Hill Parking, Niagara Falls Ontario Canada.
Skylon Tower parking lot is very close to the Clifton Hill Parking lot and you can either take stairs or the sidewalk on Murray St to get to the park. For navigation use:  Skylon Tower parking lot 5200 Robinson Street Niagara Falls Ontario Canada.
Niagara Parks parking lot use:  Niagara Falls Lot #1 6650 Niagara Pkwy, Niagara Falls Ontario Canada. 
If the Niagara Parks lot is full when you enter they will direct you to one of their satellite lots which then requires using the WEGO shuttle bus service. This lot usually never fills to capacity except during the months of July and August. If you plan on visiting the brink of the Canadian Falls at Table Rock during your visit this is the most convenient parking lot to use.
This video displays the old Maid of the Mist boat passing in front of the American Falls.
Please visit our homepage for the most up to date Niagara Falls tourism information.