Mistrider Zipline to the Falls!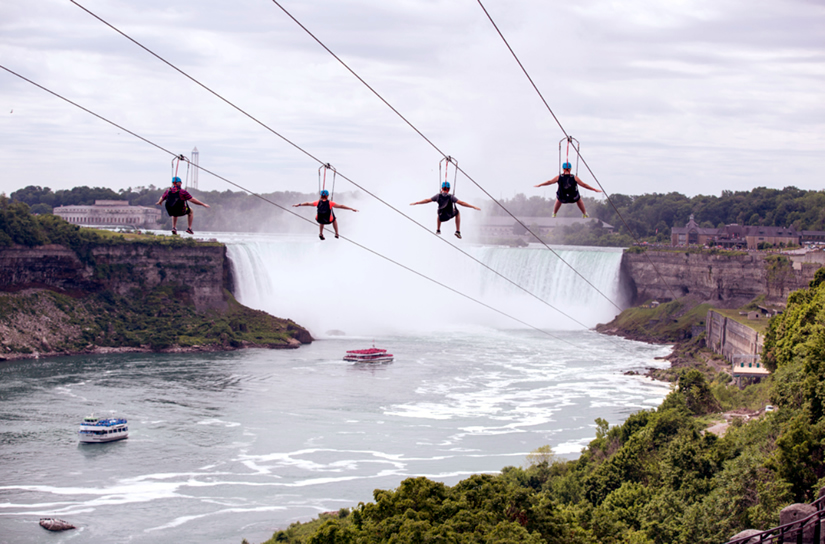 The newest and most exciting way to view Niagara Falls is with Mistrider Zipline to the Falls located in Niagara Falls Canada. Our flight without feathers is the coolest way for humans to soar across the sky – now with amazing world wonder views in Niagara Falls! On four parallel ziplines that face the American and Canadian Horseshoe Falls, riders dangle from a precarious 67 metre (220 foot) high vantage point. Our fully-guided experience adds thrill to the breathtaking panorama as gravity floats riders 670 metres (2,200 feet), at speeds of 70+ kph (40+ mph), along the edge the vast Niagara river gorge to the Falls observation landing. Feel the incredible force of nature on your face!
The Mistrider Zipline is open for the 2019 season.
Niagara Zipline cost 2019: Single Flight: $59.99 +HST Canadian ($44.99* +HST US Dollars)
Ask about our Early Bird Special – Ride before 10 AM and save $10 per person! $49.99 +HST Canadian ($37.99* +HST US Dollars) Only Until September 3rd!
2019 hours of operation:
May 17- May 31:
Daily: 10AM-8PM
Daily Night Zip: 9PM-10PM
June 1- June 28:
Daily Early Bird: 9AM
Daily: 10AM-8PM
Daily Night Zip: 9PM-10PM
June 29- August 5:
Daily Early Bird: 8AM-9AM
Daily: 10AM-8PM
Daily Night Zip: 9PM-10PM
August 6 – September 2:
Daily Early Bird: 8AM-9AM
Daily: 10AM-7PM
Daily Night Zip: 8PM-10PM
September 3 – October 27:
Sunday – Thursday: 10AM-4PM
Friday & Saturday: 10AM-6PM
Night Zip: Fridays & Saturdays 7PM-8PM
November 2 – December 1:
Saturday & Sunday: 10AM-4PM
For more info visit Zipline Niagara or call 1-800-263-7073