Visit the Cave of the Winds in Niagara Falls
Located on Goat Island at Niagara Falls State Park.
Parking is available on Goat Island.   parking information
Tel: (716) 278-1794
Open most every day of the year from 9:00am to 8:00pm with limited hours during the winter months.    view current hours
2023 admission: Adults $21.00, Children 6-12 $17.00, 5 & under free.
Advance ticket sales are not available and all tickets must be purchased in person at the ticket window. Cash or Credit Cards accepted.
Restrooms and picnic areas available nearby.
Visitors average 45 minutes to 1.5 hours here.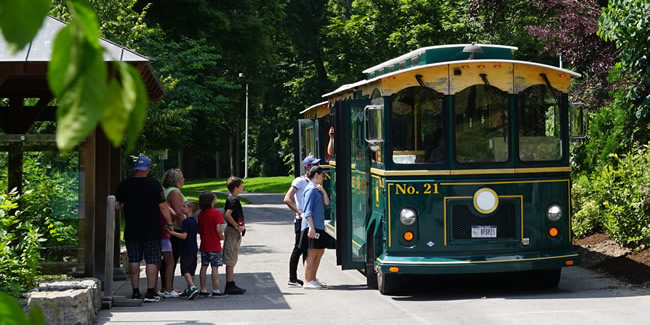 The Niagara Scenic Trolley stops at the Cave of the Winds.
The Cave of the Winds trip takes you closer to the waters of Niagara Falls than you thought possible. You ride an elevator 175 feet (53 meters) deep into the Niagara Gorge. Then, clad in a bright yellow poncho and wearing the special footwear provided, you follow a tour guide over a series of wooden walkways to the famous "Hurricane Deck". As you stand at the railing, you are a mere 20 feet (6 meters) from the billowing torrents of Bridal Veil Falls. 
The rushing waters loom above you, dousing you with a generous spray as you face the thundering Falls head-on. Rainbows are usually visible day and night. Everyone can experience the sights of Niagara Falls. A deck has been built 150 feet from the base of the Falls especially designed for handicapped and adults with children in arms.
*During the off season the catwalk and hurricane deck at the Cave of the Winds is not available. It is removed every Fall and rebuilt in the Spring. The catwalk and hurricane deck typically re-opens every year during the last week in May. For directions to Goat Island on your mobile device use: Goat Island Niagara Falls State Park
This video was taken near the base of the Cave of the Winds tour in Niagara Falls. The Falls is louder here than anywhere else at Niagara Falls. You may want to turn your volume down before playing! The Cave of the Winds is definitly one of the top attractions in Niagara Falls. It's especially nice to visit on a hot summer day and feel the cool mist on your face!
Please visit our homepage for the most up to date Niagara Falls tourism information.