Cave of the Winds Niagara Falls NY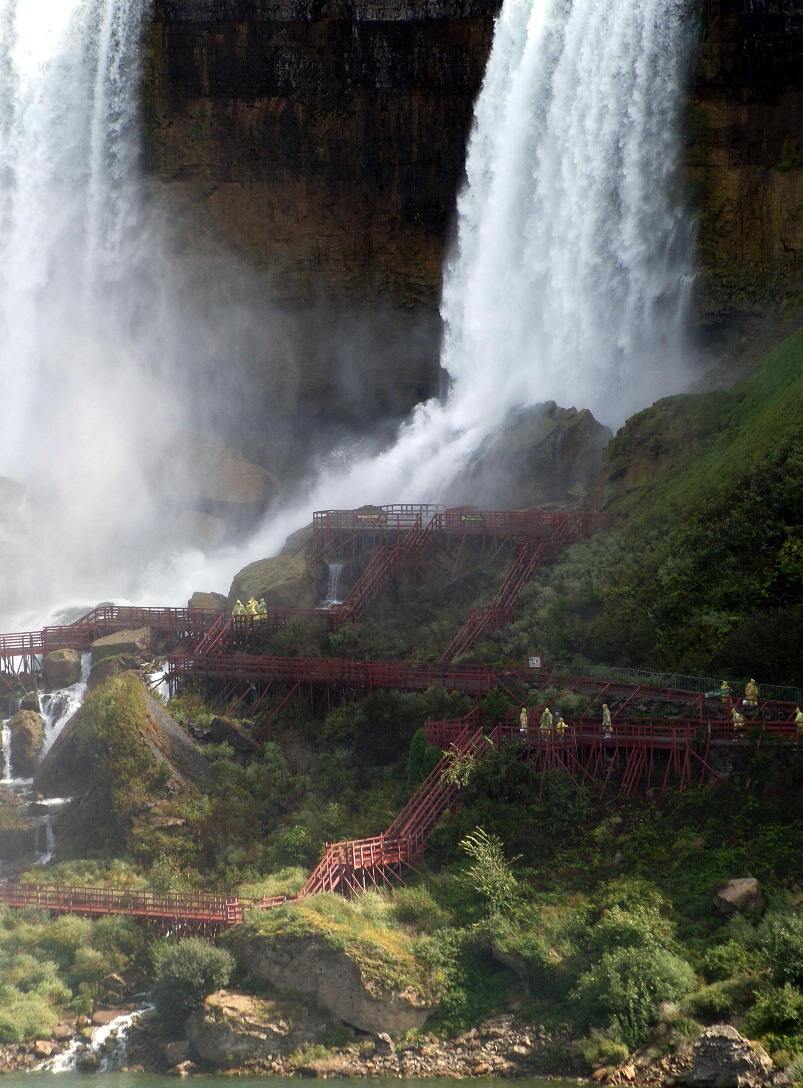 The Cave of the Winds trip takes you closer to the waters of Niagara Falls than you thought possible. You ride an elevator 175 feet (53 meters) deep into the Niagara Gorge. Then, clad in a bright yellow poncho and wearing the special footwear provided, you follow a tour guide over a series of wooden walkways to the famous "Hurricane Deck". As you stand at the railing, you are a mere 20 feet (6 meters) from the billowing torrents of Bridal Veil Falls. The rushing waters loom above you, dousing you with a generous spray as you face the thundering Falls head-on. Rainbows are usually visible day and night. Everyone can experience the sights of Niagara Falls. A deck has been built 150 feet from the base of the Falls especially designed for handicapped and adults with children in arms.
2019 pricing and hours of operation are not available at this time. We are displaying 2018 information for reference purposes. Updated info will be posted as it becomes available. Thank You!
2018 Pricing
$19.00 US for adults
$16.00 US for children six to 12 (must be at least 42″ (106cm) tall)
Admission is free for children 6 and under at all attractions in Niagara Falls State Park.
Phone number: (716) 278-1730 or (716) 278-1796
All day parking is available on Goat Island for $10.00 per car.
Cave of the Winds hours of operation 2018
CAVE OF THE WINDS IS CLOSED FOR THE SEASON
June 15 – September 2: 9 a.m. – 8:15 p.m.* (Sunday-Thursday) / 9 a.m. – 9:15 p.m.* (Friday-Saturday)
September 3 – October 7: 9 a.m. – 6:15 p.m.* (Sunday-Friday) / 9 a.m. – 8:15 p.m.* (Saturday)
October 8 – October 21: 9 a.m. – 4:15 p.m.* (Daily)
Holidays
Labor Day: 9 a.m. – 9:15 p.m.* (Friday, August 31-Saturday, September 1) / 9 a.m. – 6:15 p.m.* (Sunday, September 2-Monday, September 3)
Columbus Day: 9 a.m. – 8:15 p.m.* (Saturday, October 6) / 9 a.m. – 6:15 p.m.* (Sunday, October 7) / 9 a.m. – 4:15 p.m.* (Monday, October 8)
Thanksgiving (November 22): Closed
Christmas Day (December 25): Closed
New Year's Day (January 1, 2019): Closed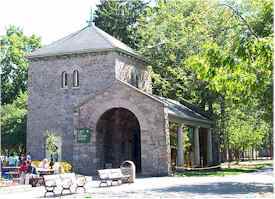 Entrance to the Cave of the Winds