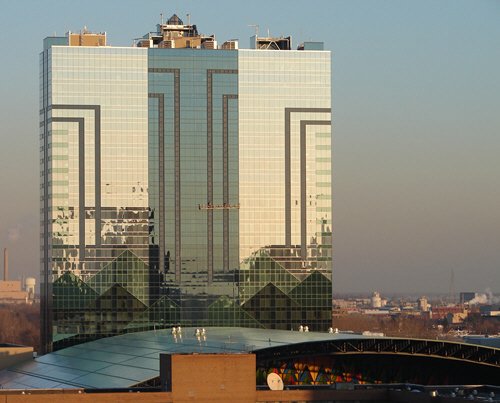 Located at 310 Fourth Street Niagara Falls New York
Niagara Falls' Seneca Niagara Casino opened in 2002, the result of an $80 million transformation of the Niagara Falls Convention and Civic Center into a full-service casino. It features 82,000 square feet of gaming space with 2,595 slot machines and 91 table games. Seneca Niagara Casino is Open 24 hours a day 7 days a week. The casino has buffet, steak house, Italian and Japanese restaurants. Please gamble responsibly. Seneca Casino Rates & Reservations.
While the Seneca Niagara Casino is a beautiful building they have decided to promote their casino in a deceptive manner with the image posted below. It appears as if the Casino is right on the Niagara river with beautiful views.

When in fact they are a few blocks away and their actual location is exactly as it is in the image below