NIAGARA FALLS
In Niagara Falls USA Prospect Point, Goat Island and the Cave of the Winds are open. All Niagara Falls USA hotels and restaurants are open for business. The Maid of the Mist boat ride closed for the season on November 6th 2022 and will reopen in May 2023.
In Niagara Falls Canada Queen Victoria Park is open for viewing the Falls. All Niagara Falls Canada hotels and restaurants have reopened. Hornblower Niagara boat ride below the Falls in Canada closed November 27th for the 2022 season and will reopen in April 2023.
For the most up to date status of Niagara Falls attractions please visit our "Now Open in Niagara Falls" page. We have recently updated our Niagara Falls parking information for your convenience.
If you are looking for accommodations at a Niagara Falls hotel check out our updated Editor's Top 10 hotels in Niagara Falls.
Covid testing and proof of vaccination  is no longer required to enter Niagara Falls Canada as of Saturday October 1st 2022. You can read more about crossing the international border here.
The Nightly Illumination of Niagara Falls will be displayed every evening for 2022.
Niagara Falls is frequently misspelled as Niagra Falls…Well now you know!
---
Experience the mystery and art of illusion with Greg Frewin, International Grand Champion of Magic. This Las Vegas Style Magical Review features spectacular appearances by our rare and majestic tigers. Your imagination will be captivated and you will be amazed "Beyond Belief!" A family friendly show featuring large cats, and illusions which astounded International audiences at the Flamingo Hilton in Las Vegas for two years. Come enjoy a Las Vegas show in Niagara Falls! For more info visit the Greg Frewin Theatre. Book your reservation today!
---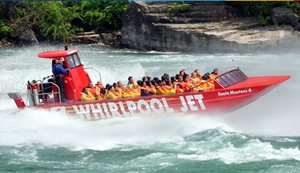 Niagara Whirlpool Jet Boat is closed for the season. What is the most exciting adventure besides visiting the Falls? The Whirlpool Jetboat ride is the most exhilarating ride on the planet! Over 1.5 million people have experienced the thrills of riding through the Niagara Rapids on board one of their 1200hp turbo diesel jetboats. Reservations are required and there are departures from both the Canadian and USA sides of the Niagara River typically beginning the first week of  May 2023. This amazing ride is considered to be one of North America's most thrilling experiences. For more information and discounted rates you can start here.
---
---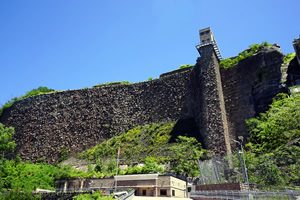 If you have not visited Niagara Falls State Park in the USA within the past few years you are in for a real treat. The NY State department of parks has revamped the entire park and even opened a new attraction. Just north of the Rainbow Bridge is the remains of what was once called the Schoelkopf Power Generating Station. An elevator was installed and offers a free self guided tour down to the waters edge. Be sure to stop and check it out next time you are here. The parklands leading north to Whirlpool Park have also been completely refurbished and offer a beautiful trail system where you can walk, hike or bike!
---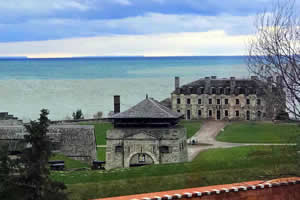 We've updated the Old Fort Niagara webpage with a beautiful 360 degree panosphere. Located in beautiful Youngstown NY only a short drive north of Niagara Falls. The view from our spectacular Fort Niagara Webcam overlooks the Old Fort Niagara and  Lake Ontario. Watch the Fort Live, Lake freighters transiting across Lake Ontario and the ever changing weather. If you have the time to spare while visiting our area we highly recommend a visit.
---
Planning a visit?
If you are visiting Niagara Falls for just the day there is a good chance that you will be arriving by car and will need a place to park. We've recently updated our "Where to  park in Niagara Falls" page.
The value of the Canadian dollar is extremely low these days and trading at about .74 cents USD. A $200.00 per night hotel room in Canada will only cost $148.00 US. If you have ever wanted to visit Niagara Falls Canada now is the time to book that vacation!
Planning a trip to Niagara Falls has never been easier. First you need to figure out the best way to get to Niagara Falls. Our "How do I get to Niagara Falls" page is full of valuable information on arriving here by everything from planes to trains and automobiles. The Travel Tips page offers information on crossing the border, passport information to what type of weather you can expect during your visit. Of course you will want to view the Niagara Falls in all its splendor but we're sure you will want to try some of the associated attractions. Just visit our attractions page and pick and choose what you might like to try. There are discount passes for Niagara Falls attractions available for those who want to visit multiple attractions or if you have limited time just pay individually for each attraction as you go. The next step is to decide on where you would like to stay. Our Niagara Falls Hotels pages offer all the insight you need to choose a place that will suit your needs. If you can't find what you are looking for check out our sitemap or send an email to info@niagarafallslive.com. We'd be glad to help you plan your visit!
---
---
Did yo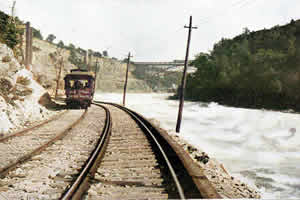 u know….There used to be a trolley service from Niagara Falls NY to Youngstown NY which followed the Niagara River right at the waters edge? It was named the "Great Gorge Route" and operated from 1895 until 1930. The owners of the line eventually closed for good due to the Great Depression and the newer and more modern modes of transportation of the bus and automobile. During the tourism season a flood light was mounted on a flat-bed car and used to illuminate the Giant Whirlpool at night. The image shown depicts the trolley heading north from the Niagara Falls. Portions of the old rail line are now part of the "Great Gorge Hiking Trail".
---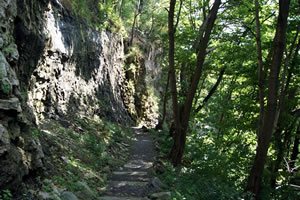 Many visitors to Niagara Falls are unaware that we possess some of the most beautiful hiking trails in Western New York. The area known as the Niagara Gorge begins at the Falls and extends almost 5.5 miles (9 km) to the north. The Niagara Gorge is accessible at various points along the Niagara Parkway on both sides of the Niagara River. You can hike down to the rivers edge for some breathtaking views of the local flora and fauna. Visit our hiking page for details.
---
Congratulations to the winners of our Niagara Falls photo contest. We had hundreds of great entries from visitors from all over the world. A big thank you to all that participated !
---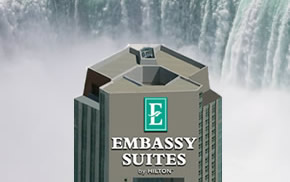 The best views of Niagara Falls are from the Embassy Suites Niagara Falls according to our unbiased research. If you are visiting Niagara Falls and want to enjoy a jaw dropping stay this is the place to stay. Built on the edge of the Niagara Escarpment this towering structure opened for business in 2003. Floor to ceiling windows and  a view that is second to none. Spend a night or two at this amazing Niagara Falls Hotel. Find more information on every Niagara Falls Hotel.
---
The image below depicts the catwalk and hurricane deck at "Cave of the Winds". It is erected every Spring after the ice melts and removed in the Fall.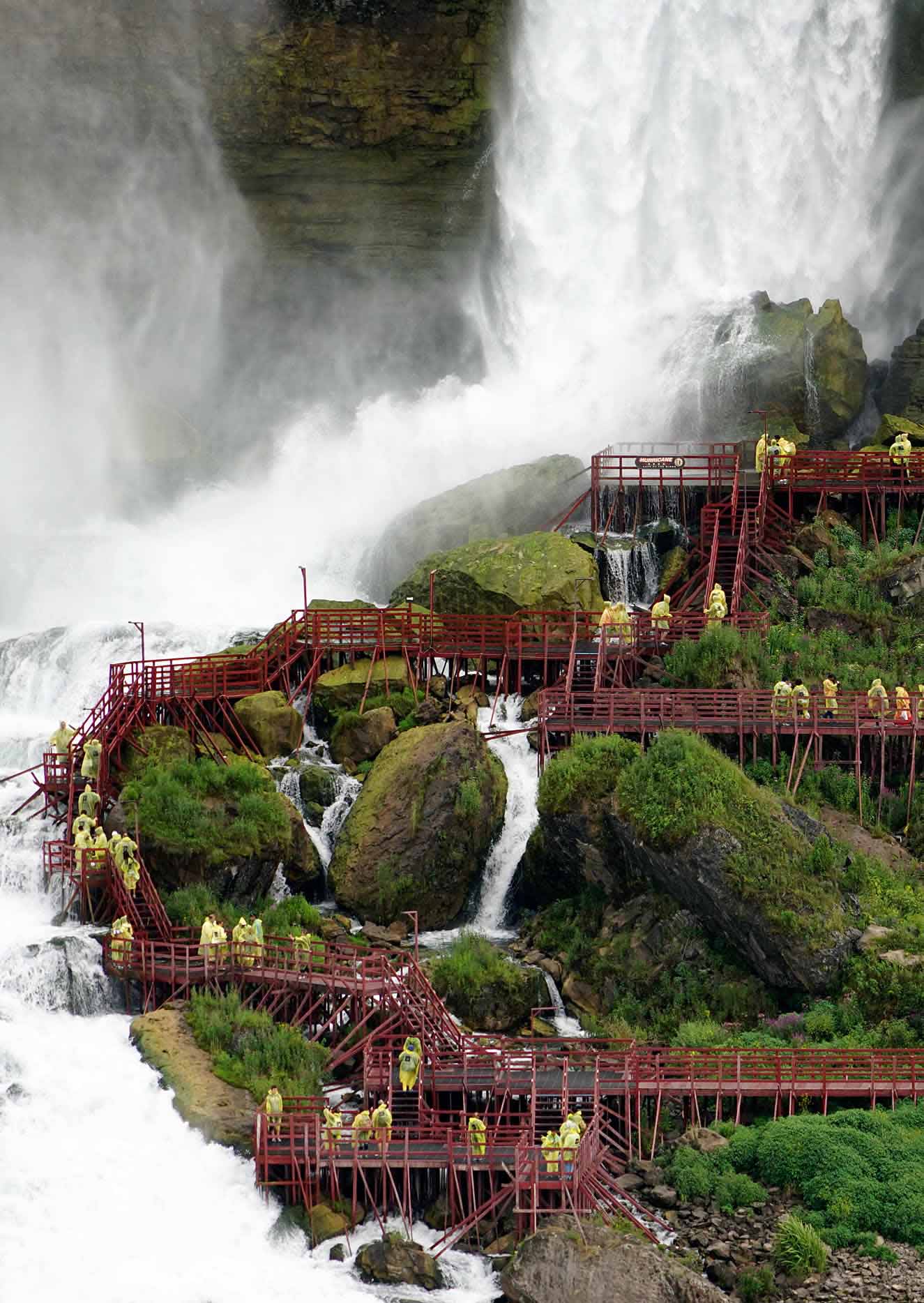 THE OFFICIAL WEBSITE FOR
NIAGARA FALLS
FUN!