The Niagara Parks buses are a great way to get around and see the sights in Niagara Falls Canada. Leave your car behind and let us do the driving. The 30 km (19 mile) bus loop runs from Table Rock at the Horseshoe Falls to Queenston Heights Park. During regular season coaches stop every twenty minutes at all Niagara Parks attractions. You may get on and off as often as you like for no additional fee.  Our buses travel along one of the prettiest drives in the world known as the Niagara Parkway. Your driver will entertain you with commentaries on the sights and attractions owned and operated by Niagara Parks.
To quickly find out what attractions are open in Niagara Falls USA or Canada visit Now open in Niagara Falls.

You can visit the following attractions in Niagara Falls Canada with the WeGo Pass: Brocks Monument, Oakes Garden Theatre, Whirlpool Aero Car,  Floral Clock, Boat Ride to the Falls, Behind the Falls,  White Water Walk,  Queen Victoria Park, Clifton Hill and the Butterfly Exhibit. During the summer tourism season you can ride a WEGO bus to Niagara on the Lake for an additional fee.
---
Niagara Parks WEGO transportation.
2023 pricing $12.00 for adults and $8.00 for children 3-12. Taxes not included, Canadian funds.
You can purchase your WEGO pass at any of the major attraction ticket windows using a credit or debit card. US and Canadian cash is accepted and as of this writing an exchange rate of 15% is offered in favor of the US dollar. Remember that you will always obtain a better currency exchange rate when using your credit or debit card versus paying with cash.
Save money by purchasing online in advance: PURCHASE YOUR TICKETS HERE  or you can visit the WeGo website.
---
During the off season months of November through April Niagara Parks offers the "Wonder Pass" which includes two days of transportation and visits Journey Behind the Falls/Niagara's Fury, Butterfly Exhibit and the Floral Showhouse.
---
If you are arriving by car, pay to park at the Rapids view Parking lot south of the Falls and ride the free shuttle from the parking lot to the Falls and back. Strollers are permitted. There is an additional fee for the shuttle to Niagara on the Lake
Route map below: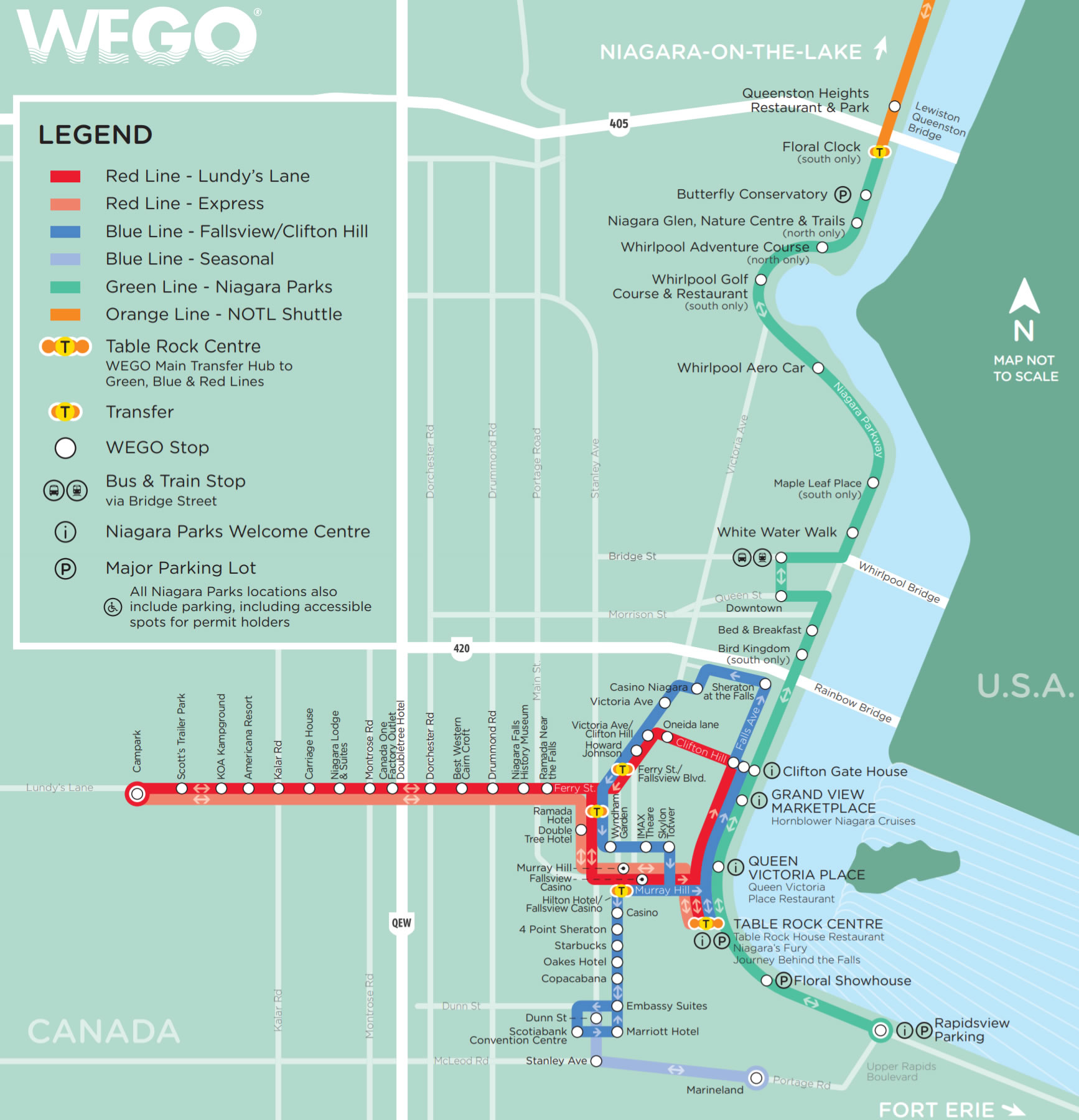 download printable .pdf

---


Please visit our home page for the most up to date Niagara Falls tourism information.