Planning a visit?
Planning your visit to Niagara Falls has never been easier. First you need to figure out the best way to get here. Our "How do I get to Niagara Falls" page is full of information on everything from planes to trains and automobiles. The Travel Tips page tells you what to expect at the border to what type of weather you can expect during your visit. Of course you will want to view the falls in all its splendor but we're sure you will want to try some of the associated attractions. Just visit our attractions page and pick and choose what you might like to try. There are discount passes available for those who want to visit multiple attractions or if you have limited time just pay as you go. The next step is to decide on where you would like to stay. Our Niagara Falls Hotels pages offer all the insight you need to choose a place that will suit your needs. If you can't find what you are looking for check out our sitemap or you can search here.
---
Niagara Falls day to night timelapse video! (watch in full screen mode)
---
If you are planning a visit to Niagara Falls in the near future please keep in mind that the boat rides below the Falls are now closed for the season. Other seasonal attractions such as the White Water Walk, Whirlpool Aero Car, NY State Observation Tower & the Cave of the Winds are closed as well. We're getting ready for the annual Festival of Lights which turns our area in to a winter wonderland. The Festival runs from November 19th 2016 to January 31st 2017. You can get all the details from www.wfol.com.
---
Niagara Gorge Hiking
Many visitors to Niagara Falls are unaware that we possess some of the most beautiful hiking trails in North America. The area known as the Niagara Gorge begins at the Falls and extends almost 5.5 miles (9 km) to the north. The gorge is accessible at various points along the Niagara Parkway. You can hike down to the rivers edge for some breathtaking views of the local flora and fauna. Visit our hiking page for details!
---
Best Niagara Falls promo video!

The Niagara Falls Canada Tourism group hired Toronto based Skymotion to take some of the most impressive video we've ever seen of Niagara Falls. Using a remote controlled helicopter equipped with a video camera they captured from angles which have never been seen before. View the Niagara Falls Video.
---
Niagara Falls photo contest
Congratulations to the winners of our fifth annual Niagara Falls photo contest. We had hundreds of great entries from visitors from all over the world. A big thank you to all that participated !
---
Niagara Tower Hotel
If you are visiting Niagara Falls and want to stay at a truly unique hotel check out the Niagara Tower Hotel. Originally built in the 1960's as a restaurant and observation tower. In 2002 it was converted to a boutique hotel with floor to ceiling windows and  a view that is second to none. Spend a night or two at this amazing Niagara Falls Hotel. Find more information here: Niagara Tower Hotel.
---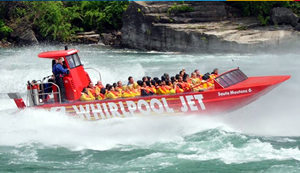 If we could recommend any one attraction that is a "must try" during the tourist season it would have to be the Whirlpool Jetboat Tours. It's truly a one of kind adventure for everyone. If you don't mind getting soaking wet, it's better than any e-ticket ride at Disney. And if you don't want to get wet, they now offer the "Jet Dome" for those looking for a more relaxed site seeing tour on the Niagara River. Visit their page for a great discount coupon and more information.
---
2017 will bring us to the twenty year mark of providing the most concise information in an easy to navigate and high quality format on Niagara Falls. We would like to thank everyone for contributing their comments and suggestions to make this possible. As always, if you have any questions, comments or suggestions which would enhance our visitors guide feel free to contact us at info@niagarafallslive.com.