The Rainbow Bridge in Niagara Falls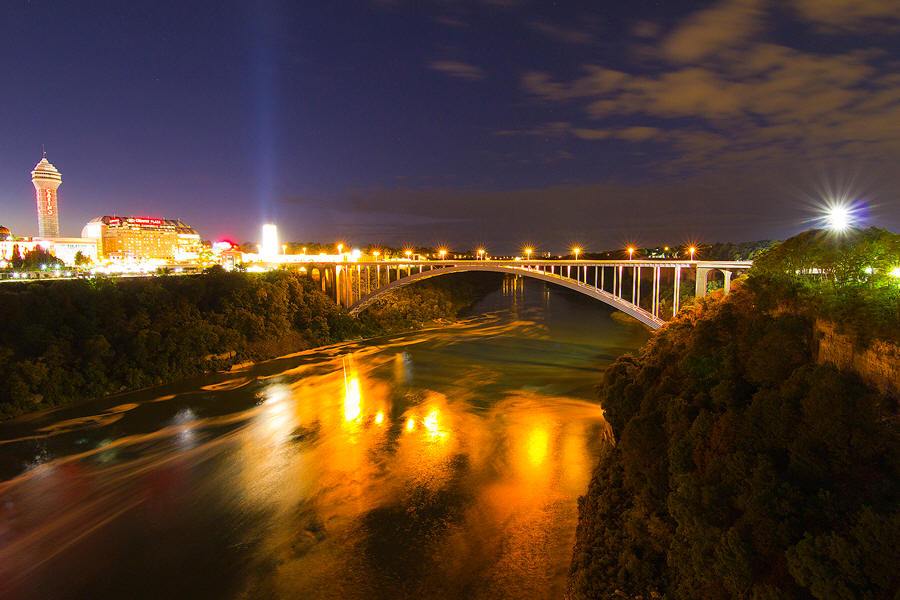 This is the Gateway between the Cities of Niagara Falls.
You can cross the bridge by auto, on foot or bicycle 24/7 everyday of the year.
It's also a great location for viewing the Falls & the Niagara River.
Due to Covid concerns the bridge is closed to non-essential traffic (NO TOURISTS). Please see our home page for details on when the bridge/border may re-open.
2021 bridge toll: $4.00 U.S. or $5.50 Canadian funds round trip for automobiles. The toll is collected when leaving the USA. All bridges now accept credit cards for payment. There is a $1.00 crossing fee for pedestrians and is collected when departing Canada.
Construction of the Rainbow Bridge started in May of 1940 and opened November 1st 1941. The deck of this bridge is 202 feet (61.5m) above the water and 950 feet (289.5m) in length. The water current under this bridge averages 26-30 miles per hour. The water depth is in excess of 175 feet (53m). In one minute it is estimated that six billion (6,000,000,000) pounds of water cross under the Rainbow Bridge. The bridges abutments are 50 feet (15m) above the water to avoid damage from ice in the river which incidentally destroyed the previous Honeymoon Bridge in January of 1938.

View from the Rainbow Bridge looking towards Niagara Falls.
Timelapse video of Niagara Falls from the Rainbow Bridge.
For official Niagara Falls Bridge information visit www.niagarafallsbridges.com.