There are now two separate operators for the boat rides below the falls. If you purchase tickets in advance be sure to buy them for the correct side of the river from which you plan on boarding.
In Canada the operator is "Hornblower Niagara Cruises"
In New York the operator is the "Maid of the Mist Boat Company"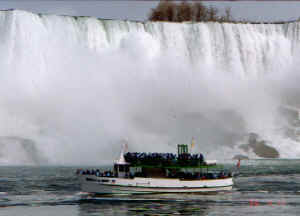 Boats leave every 30 minutes from
the Niagara Reservation State Park.
Docks are located ¼ mile (400M) from the Rainbow Bridge.
Ride into the Mist!
Water rushes all around as you "soak" in the excitement and explore the roar of the Falls. A historical ride aboard the world-famous Maid of the Mist is a half hour thrill of a lifetime! North America's oldest tourist attraction, millions of visitors have enjoyed the boat tours since 1846.
Admission to the Maid of the Mist is included with the Niagara Falls Discovery Pass, departing from the Niagara Reservation State Park.
Attraction Facts & Figures
A powerful diesel-engined boat will take you from the docks past the base of the American Falls, then into the basin of the magnificent Canadian Horseshoe Falls. Operating from late April/early May (weather dependent) to October 24 each year, the Maid departs every 15 minutes. Two 600-passenger boats, Maids VI and VII, are each 80-feet (24m) long and have two 350-horsepower engines that carry the vessels against the powerful current. A recyclable souvenir raincoat is provided free with admission to help keep you dry from the mist and spray.
Shopping at Maid of the Mist
At the end of your boat tour, you will enter the Maid of the Mist Plaza, which includes a gift shop.
BOARDING DOCKS
Niagara Falls, U.S.A.
At the entrance to the NY State Falls Observation Tower
Landings are accessible for physically challenged persons.
2016 RATES
Adult $18.25
Child  $10.65
5 and under (Children accompanying parents only) No charge
2016 SCHEDULE
April —May 20 9:00 am to 5:00 pm (weekdays)
9:00 am to 6:00 pm (weekends)
Victoria Day Weekend
May 21—May 22 9:00 am to 8:00 pm
May 23—May 27 9:00 am to 6:00 pm
Memorial Day Weekend
Saturday, May 28 9:00 am to 8:00 pm
Sunday, May 29 9:00 am to 8:00 pm
Monday, May 30 9:00 am to 6:00 pm
May 31—June 17 10:00 am to 6:00 pm (8:00 pm on Saturdays)
June 18—August 8 9:00 am to 8:00 pm
August 9—August 28 9:00 am to 7:30 pm
August 29—September 4 9:00 am to 7:15 pm
Labour Day Only
Monday, September 5  9:00 am to 5:00 pm
September 6—October 3 9:00 am to 5:00 pm
10:00 am to 6:00 pm on weekends.
October 4—October 31 9:00 am to 5:00 pm
November 1- November 6 10:00 am to 4:00pm
The prices are in U.S. dollars and include the $1.25 per person cost of the elevator which is necessary to reach our landing.
Reservations are not accepted.
Method of payment – Cash, Visa, MasterCard. Groups may pay by check or direct billing if approved prior to arrival.
Personal checks are not accepted.
Last day of operation for the 2016 season is November 6 2016.
Rates and Schedule are subject to change without notice.
Opening date is dependent on when the last of the Lake Erie ice has melted.
Previous opening dates:
4/12/2006, 5/9/2007, 5/2/2008, 4/23/2009, 4/10/2010, 5/4/2011, 4/12/2012, 4/19/2013, 5/10/2014, 4/2/2016.