Niagara Falls at Night
The 2021 schedule for the fireworks and nightly illumination of Niagara Falls.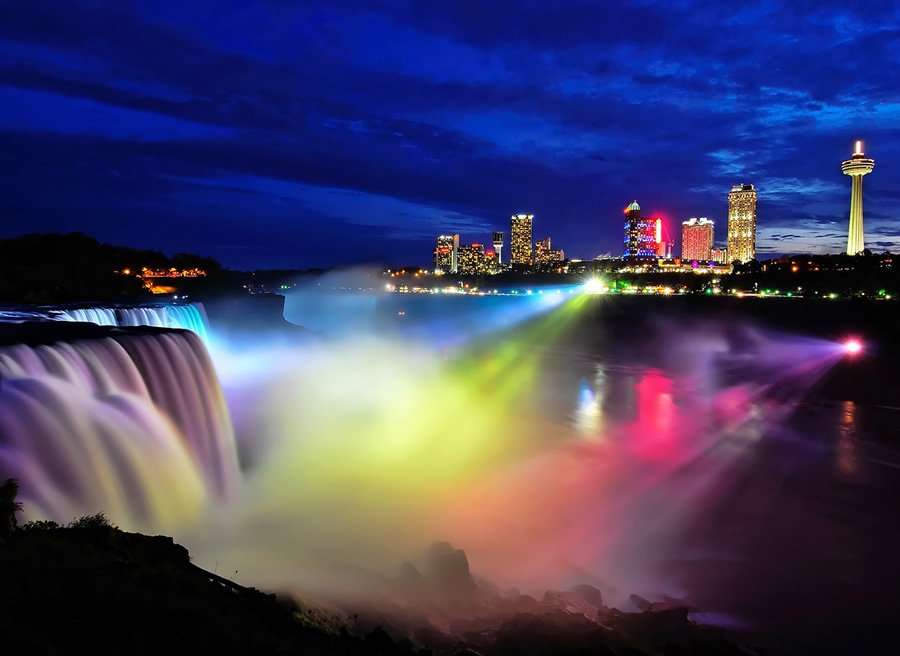 View from Prospect Pointe of the Falls and Canadian skyline. Enjoy the nightly illumination of Niagara Falls every night of the year. A recent multi-million dollar upgrade makes them even better!
THE LIGHTS ON THE FALLS ARE OPERATING EVERY EVENING FOR ALL OF 2021 
What time do the lights turn on at Niagara Falls?
Niagara Falls Illumination schedule for 2021
March:

7:30pm to 1:00am
---
April 1 – May 14:

8:00pm to 1:00am
---
May 15 – July 31:

8:30pm to 2:00am
---
August:

8:00pm to 2:00am
---
September:

7:00pm to 2:00am
---
October:

6:15pm to 2:00am
---
Nov & Dec:

4:40pm to 2:00am
FIREWORKS AT THE FALLS ARE NOT BEING DISPLAYED UNTIL FURTHER NOTICE.

FIREWORKS OVER NIAGARA FALLS!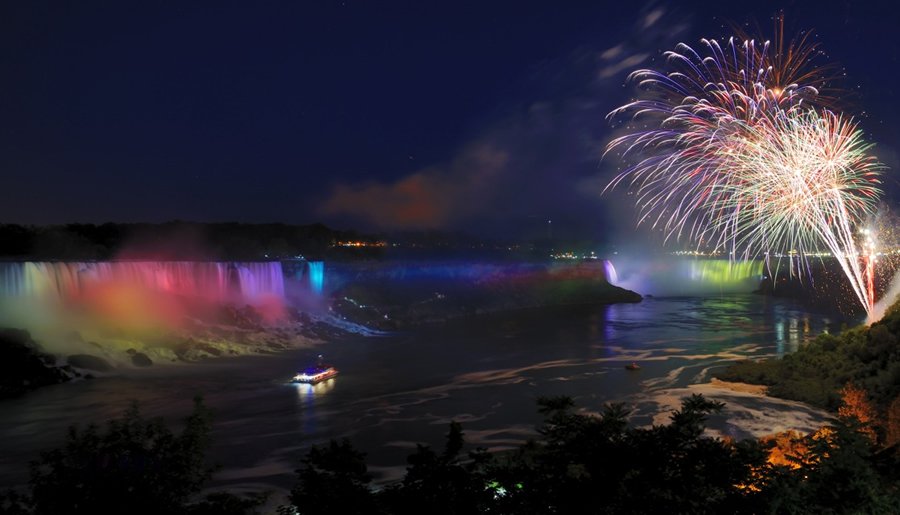 2021 FIREWORKS AT THE FALLS
The fireworks are displayed directly in front of the American Falls over the Niagara River.
Join us for the 28th anniversary of Canada's longest-running fireworks series! Starts mid May 2021, every Friday, Saturday, Sunday and holidays at 10:00 p.m. Enjoy a spectacular free fireworks display.
Travel tip: If you view the fireworks from Queen Victoria Park during peak season be sure to position yourself with a clear view overhead before they start. Then watch out for the stampede of people who didn't!
All fireworks displays have been postponed due to the pandemic. Please visit our home page for updates. 
Local Holidays 2021
Victoria Day, Monday May 24th
Memorial Day, Monday May 31st
Canada Day, Thursday July 1st
Independence Day, Sunday July 4th
Civic Holiday, Monday August 2nd
Labor Day, Monday September 6th
New Years Eve, Friday December 31
The best place to view the Fireworks over the Falls is from Queen Victoria Park in Canada or Prospect Point Park in the USA.