Daredevils of Niagara Falls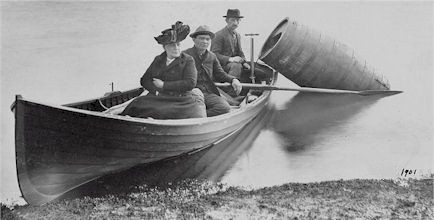 October 24th 1901
Annie Taylor was the first person to conquer the falls in a barrel. After climbing inside her airtight wooden barrel, the air pressure was compressed to 30 p.s.i. with a bicycle pump.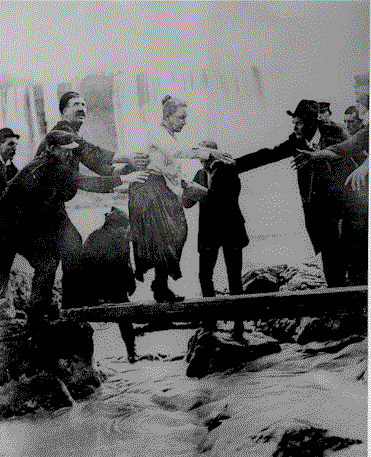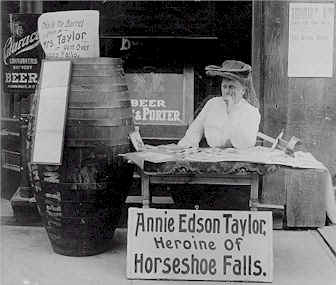 Though bruised and battered Annie made it, she expected fame and fortune.  Annie died in poverty.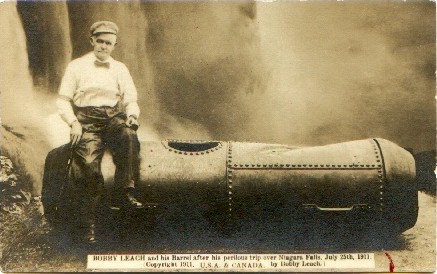 July 25th 1911
The infamous Bobby Leach plunged over the Falls in a steel barrel. Bobby broke both kneecaps and his jaw during his daring event. Years later while touring in New Zealand, Bobby slipped on an orange peel and died from complications due to gangrene !
---
July 11th 1920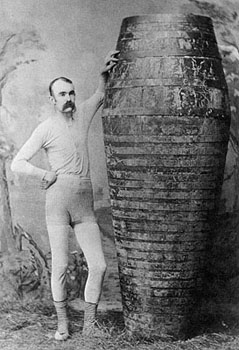 Englishman Charles G. Stephens equipped his wooden barrel with an anvil for ballast. Charles tied himself to the anvil for security. After the plunge, Chucks right arm was the only item left in the barrel.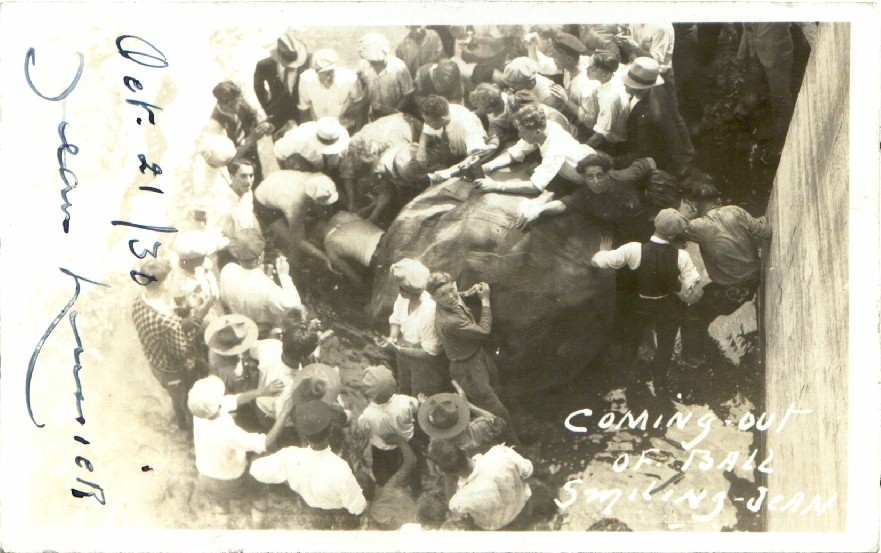 July 4th 1928 
"Smiling Jean" Lussier survived the trip over the brink in a large rubber ball.
July 5th 1930
A Greek waiter named George L. Statakis suffocated to death after his barrel was trapped behind the falls for more than 14 hours.
June 30th 1961
Nathan Boya drops off the brink in a ball-like contraption.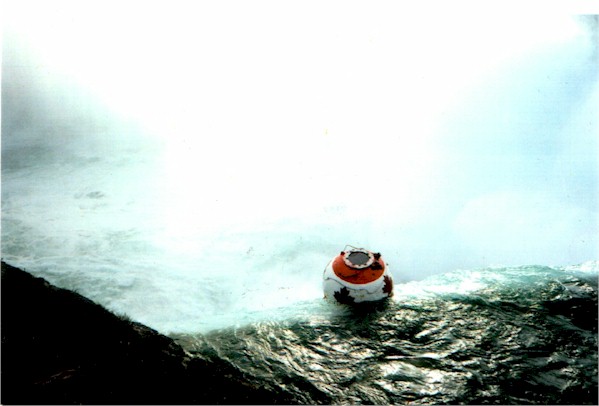 July 3rd 1984
The first Canadian to conquer the Falls was Karel Soucek. Karel survived the plunge, but later that year Karel was killed while recreating the drop from a platform inside the Houston Astrodome. (Karel's barrel hit the edge of the water tank)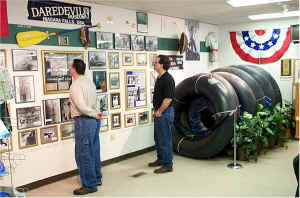 August 18th 1985
A Rhode Island bartender named Steven Trotter made the trip in a barrel wrapped in inner tubes.
Steven was fined a total of $5,503.00
October 5th 1985
A Canadian mechanic John "Super Dave" Munday made a successful trip in his barrel. Dave could not get enough! He made a second successful trip on September 26th 1993.
September 28th 1989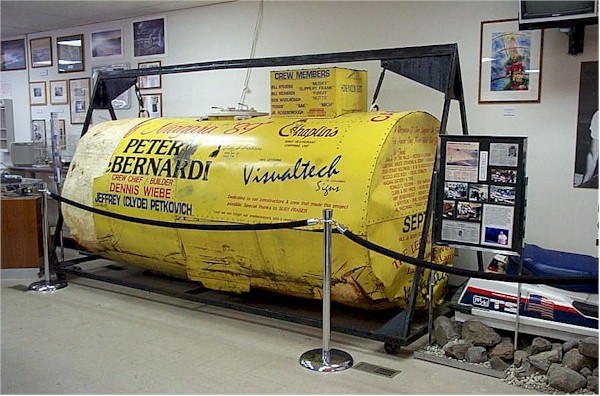 Niagara Falls Ontario residents Peter De Bernardi and Jeffery James Petkovich accomplished the first duo descent of the Falls.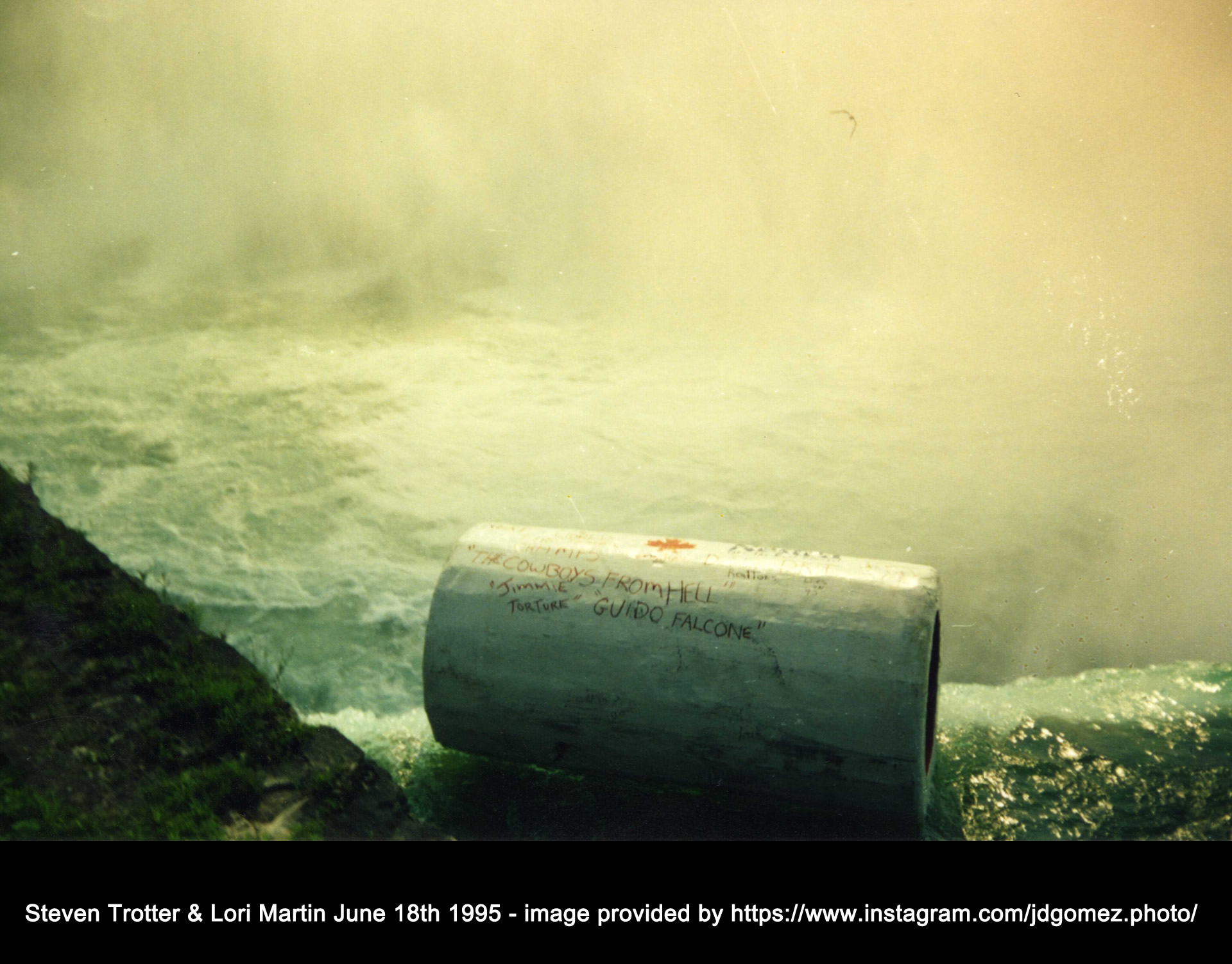 June 18th 1995
Steve Trotter returns to the Falls again to make his second attempt. This time with a partner, Lori Martin a caterer from Georgia. They were the first male and female to make the big drop together !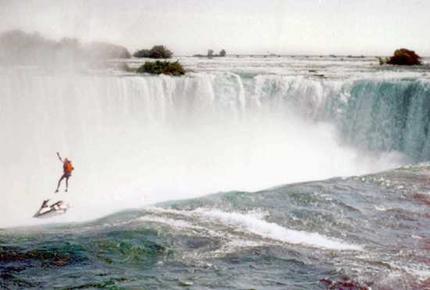 October 1st 1995
Robert Overcracker rides a jetski over the brink of the Horseshoe Falls to help promote awareness for the homeless. His parachute did not open and Robert ended up promoting better parachutes. He plunged to his death and his body was never recovered. An Egyptian tourist captured this amazing image.
The ultimate daredevil …. Robert Overacker, 39, fell to his death at Niagara Falls in 1995 when his parachute failed to open as he drove a jetski over the edge.
---
October 22nd 2003
Kirk Jones from Canton Michigan becomes first stunter in the history of Niagara Falls to survive the plunge wearing only the clothes on his back. Kirk's idea had been in the works for a number of years. While here on a visit with a friend, Kirk made the decision. They purchased a used video camera to record this historical event and went to the Horseshoe Falls on the Canadian side of the river. Kirk entered the water about one hundred yards upstream and began swimming out into the swift current. Eight seconds later Kirk made the 175 foot (53.3m) drop and swam to shore while passing up a free ride with the "maid of the mist" tour boat. Kirk was treated for minor bumps and bruises at local a hospital and released only after promising to return for court. For his stunt Kirk was fined a total of $2,300.00 dollars and banned from entering Canada for life. Unfortunately Kirk and his friend had been imbibing in alcohol before the stunt and Kirks friend couldn't figure out how to work the camcorder and the entire stunt went unrecorded!
June 16th 2012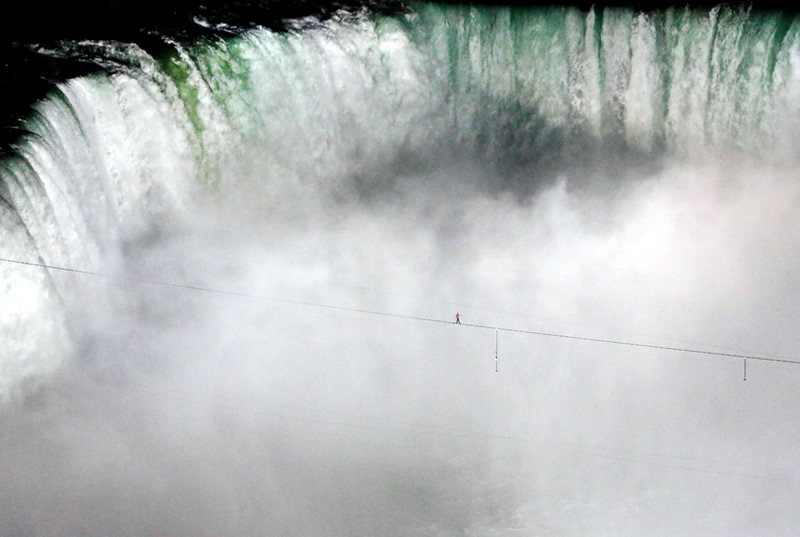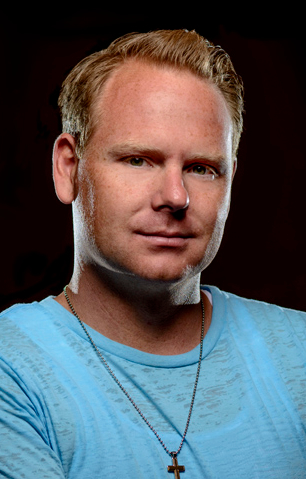 Nik Wallenda- Self-described as "The King of the Wire", he is known for his high-wire performances without a safety net. He holds seven Guinness World Records for various acrobatic feats, but is best known as the first person to walk a tightrope stretched directly over Niagara Falls on June 15, 2012; the feat was broadcast internationally. The walk came after a two-year legal battle involving both sides of the Canada–United States border to gain approval. For the walk he was required to wear a safety harness for the first time in his life.
---


Please visit our home page for the most up to date Niagara Falls tourism information.